Hobein 18 tonnes
V 1.0 mod for Farming Simulator 2011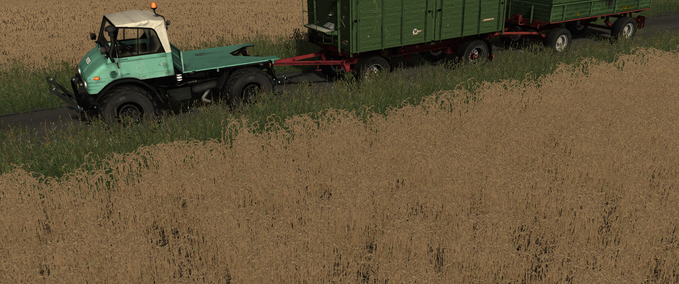 description
featured
Modell: Bigfarmer145
Textur: pfreek
Skripte: Sven777b, Geri-G, fruktor
Version 1.0:
• Original: http://www.modhoster.de/mods/welger-dk-280r--5
• 1:1
• Neue Textur der Firma Hobein.
• Benutzte und verdreckte Textur
• Neue Fruchtplanen und -texturen
• Zusatzmodelle (Kleinzeug) von Bigfarmer145
Funktionen:
• Schutzplane öffnen/schließen
• Abkippen links / rechts
• StVO Anlage
• Unterlegkeile
• Originales Gewicht
Spielspezifisches:
• Leergewicht des Anhängers: 4,5 t
• Früchte: Gerste, Raps, Weizen, Mais, Dünger, Gras, Silage, Mist, Kartoffeln, Zuckerrüben
 => (barley, rape, wheat, maize, fertilizer, grass, chaff, manure, potato, sugarbeet)
• Füllmenge: 18 m³
Es können zwei Logfehler erscheinen, wenn die Map keine Kartoffeln und Zuckerrüben unterstützt. Auf Wunsch hin habe ich es aber trotzdem in den Anhänger mit eingefügt. (Deal?)
Nach §4 des deutschen Urheberschutzgesetzes gilt der hier eingestellte Downloadlink als offizieller Datenbankwert!
Ich bitte alle Downloader den Wunsch zu respektieren, dass Sie diesen Mod nicht editieren oder neu hochladen.
Ansonsten Wünsche ich viel Spaß mit dem Anhänger!! Bei Fehlern guckt einfach in die Kommentare, ob dort schon eine passende Antwort parat liegt.
pfreek
Weitere Informationen:
Map: http://www.modhoster.de/projects/photomap-20
=> Work in Progress und ich suche keine Tester.
=> depositfiles.com:
1. Klickt auf den Downloadlink Button (ist klar).
2. Klickt zwei mal auf "Kostenloser Download". (Wenn ihr einmal draufklickt habt, kommt ein Fenster mit Werbung, welches ihr schließen könnt. Sobald die Werbung geschlossen ist, klickt erneut auf "Kostenloser Download").
3. Ein Countdown von 60 Sekunden startet. Danach gebt ihr den Captchacode ein und klickt auf "Continue" oder drückt die Eingabetaste.
4. Klickt auf "Eine Datei Runderladen" (Erscheint erst, nachdem der korrekte Captcha eingegeben wurde.

Danke an jackdaniels 84
Credits
Bigfarmer145
pfreek
Sven777b, Geri-G, fruktor
Files
checksum:
042b16b71a8925dc3964285f1a707683
Version:
1.0
multiplayer ready?
no
Author:
pfreek
price in shop:
25900 LS
name in shop:
Hobein 18to
description in shop:
Der Hobein 18t ist der optimale Anhänger zum Transport von Getreide.
Modell:Bigfarmer145; Texturen:pfreek; Script:Sven777b, Geri-G and fruktor

Do you think this mod should be featured?
}