Yard cleaner
V 1.0 mod for Farming Simulator 19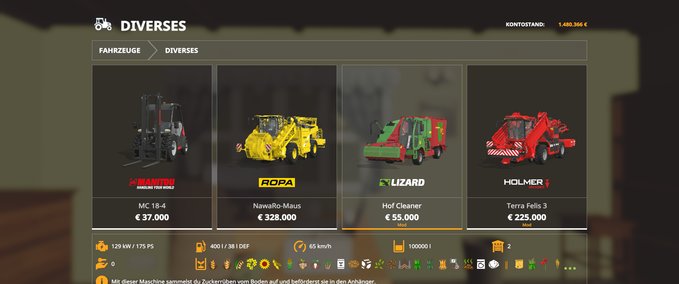 description
featured
One thing in advance: This is a pure FUN-MOD !!!
Who has a problem with it, can keep it - is his!
Hello dear digital farmers,
I always had problems cleaning my stables. Time this vehicle did not fit, sometimes I got the shovel from the front loader not properly adjusted to take the crap. You may know that yourself.
So it had to be a solution. In the LS17 there was a fine Mod, the hies (afaik) Profihopper Mapcleaner and was a converted Siloking feed mixer with which you could absorb (almost) everything on the floor.
Something had to come for the 19er. Thanks to the really great mod workshop videos by Mario Hirschfeld ( best regards at this point ), I also dared and made a bit.
The ingredients: the Strautmann Vertimix feed mixer, a few hours of work, many (really many) curses and one or two brainstorms.
The result: the Lizard Hof Cleaner - a self-propelled vacuum cleaner for the whole yard !!!
You can so absorb everything that falls into the category BULK, so everything could be lying on the floor.
You get the vehicle for a basic price of € 55,000.
The capacity you can in the expansion stages
Standard (17,000 liters - 0 €) ,
Construction 1 (34,000 liters - 5,000 €) and
Choose body 2 (100,000 liters - 20,000 €) .

There are also three engine configurations:
HofCleaner 175 (175 PS - 0 €) ,
HofCleaner 250 (250 hp - 5.000 €) and
HofCleaner 1000 (1.000 HP - 20.000 €)
You can also customize the main, design and rim colors (for free)
The top speed is 65 km / h (at the HofCleaner 1000 at 76 km / h).
The "bulk material" is taken up with 10,000 liters / s
Unloading will also be at 10,000 liters / s.
Watch out !!! It can only be unloaded left !!!
(The discharge nozzle is on the left behind the driver's cab)
Mod is multiplayer suitable.
As I said - it is a pure FUN-MOD. This vehicle will not exist in reality. And the expansion stages with 1,000 hp and 100,000 liters of cargo volume are of course completely utopian.
Who can use something like that - attacks. Who finds something absolutely stupid - just leave it and go to the next mod.
I'll probably make some decals for the box (if I have time and desire to do so). Otherwise, there is nothing left to do, I believe.
Have fun with it !!!
Many thanks to Sparky for testing!
PS: Is also great for emptying a silage silo :-)
Credits
Modell: Giants
Textur: Giants
Script: Giants
Idee / Konzept: Camo (und irgendein LS17-Modder dessen Namen ich nicht mehr weiss)
Tester: Camo und Sparky
Sonstige: 
Files
Do you think this mod should be featured?
}