HofHau
V 2.0 mod for Farming Simulator 19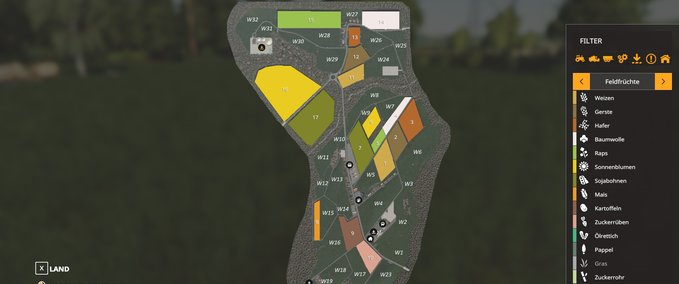 description
Hello dear Ls 19 friends Finally the time has come Our Hof Hau Map has made it to the download and here we can presnet them for you
(Sales outlets version 1.0.0.0) Raiffeisen sales point for fruits Selling point for bales and wool cotton is the barn and sipnnerei at the cattle dealer where you can also buy and sell the animals The sawmill is the sales point for logs and chippings Raiffeisen sales point for fruits and there you can buy lime and fertilizer at the lime silo Selling point for bales and wool cotton is the barn and sipnnerei at the cattle dealer where you can also buy and sell the animals The sawmill is the sales point for logs and chippings There is a lot of grassland that can be turned into arable land very quickly with the help of a cultivator (What's new in version 2.0) Manure System Ready (Attention you have to have the current version of the Manure system without this mod there are errors in the log but with the mod everything is good is also explained in the video At the dealer, 2 gates were installed with the time to open and close. Opening times Mon-Sat 8 am-6pm At the sawmill and at the Raiffeisen there are also 2 gates that open at 8 a.m. and close again at 5 p.m. that makes playing more realistic Then the nice little village of Schwarzenborn was added there is a building space for placeable objects and a BGA you can see more details in the video
The map may not be rebuilt and offered new and may not be uploaded anywhere else in the originals !!!!!
And now we hope you enjoy playing the Ls15_Modding team
Credits

Idee / Konzept: Ls15_Modding und Team 
Tester: Andre vom Ls15_Modding Team 
Und sonst allen danke dessen Objekte verbaut wurden 
changes
05 Oct 03:19

Version 2.0

Probleme Gefixt Verkehr ist auf 50kmh beschleunigt Ohne Manure System könnt ihr über ein Trigger Gülle und Gärreste end nehmen und mit Manure System die Schläuche an die Anschlüsse Kuppeln Bunker Volumen der BGA von 50000 auf 136000 erhöht teilweise wurden noch das eine oder andere behoben

13 Mar 01:23

Version 1.0.0
Empfehlungsrate
-/-
noch nicht genug Stimmen
Do you think this mod should be featured?
}