Horsch Joker12rt
V 2.0 mod for Farming Simulator 2013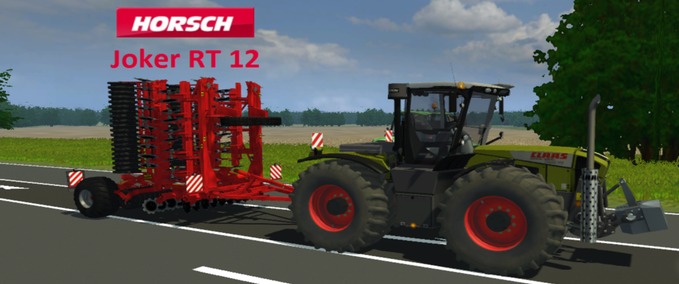 description
featured
Here we have for you a brand new 12RT Horsch Joker. Ideal for large areas.
The engine was completely rebuilt and animated 1:1. The weight and power requirement is reduced for smaler tractors from 260 HP ( with counterweight )
It is built with one hitch, there you can attach Optipacks for a better soil-quality ( the Optipacks are coming march 2013 )
Power requirements: from 260 hp (360 hp real)
VRAM: 9.95MB
Poly: 38612
Have fun testing, whom it pleases, thank Rate / / remember watching!
Credits
_ghost_

Files
checksum:
5176054825ce4209bb2a85c9181f2722
Version:
2.0
multiplayer ready?
no
Author:
_ghost_
price in shop:
53299 LS
name in shop:
HORSCH Joker 12rt
description in shop:
Mit der gezogenen Scheibenegge "Horsch Joker 12rt" bearbeiten Sie ihr Feld schnell und effizient, die relativ geringen Transportabmessungen erleichtern das Wechseln des Einatzortes.

Durch den Zughaken, am Heck der Maschine, kann man den Einsatzbereich

Do you think this mod should be featured?
}