Info Display Extension
V 1.3.0.1 mod for Farming Simulator 22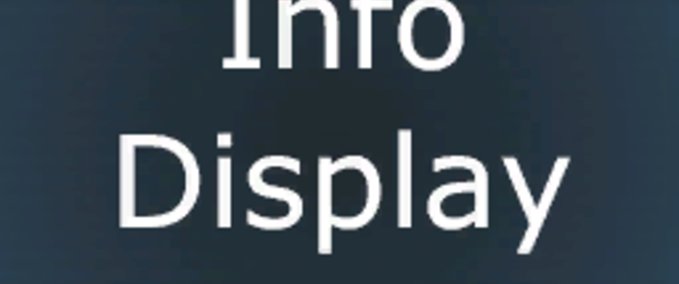 description
A small mod to expand the info display and the displays of the productions by the available capacity.
It works for all warehouses and also for the productions in the Info Trigger.
It also works for the displays in the production menu. 
Upload on other sites only by myself, linking only with original download link. NO substitute link!
The change as well as renewed uploading whether completely or in parts is not permitted!
Credits
Script: Achimobil
Idee / Konzept: Achimobil
Tester: FEDAction Team
changes
09 Jun 07:04

Version 1.3.0.1

- Einlagern und Auslagern Texte bei Revamp 1.0 korrigiert
- Fix für Lua fehler ohne PF

08 Jun 21:07

Version 1.3.0.0

- Misthaufen Info: Anzeige welche Ställe verbunden sind.
- PF Teilanzeigen korrigiert so dass auch hier die Grundstücke die kein Feld haben, ignoriert werden und das anhand der Feldflächen gemacht wird.
- Maximal Anzeigen in Produktionen wieder da, wenn Revamp 1.0 vorhanden ist.

06 May 14:14

Version 1.2.0.0

- Revamp Texte entfernt und Anpassungen in Produktionen deaktiviert, wenn revamp genutzt wird
- Silo Info: Einzelkapazitäten anzeigen, wenn diese im Silo pro Filltype definiert sind
- Silo Info: Alphabetisch sortiert
- Silo Info: Anzeige der Anzahl der Elemente, die wegen Platzmangel nicht angezeigt werden können
- Fütterungsroboter Info: Anzeige der Kapazitäten eingefügt

20 Apr 08:26

Version 1.1.2.0

- Anpassungen an Patch 1.4 wegen Paletten Maximum Warnung

14 Apr 23:53

Version 1.1.1.0

- Fehler bei mehreren gleichen Produktionen behoben
- Fehlende EN Übersetzung eingefügt

12 Apr 18:00

Version 1.1.0.0

- Maximalmenge für Futter, Milch, Gülle, Mist und Stroh bei Tierställe eingefügt in info trigger
- Kompatibel zu Revamp Mod gemacht
- Produktionen Liste wird jetzt Alphabetisch sortiert im Menü angezeigt

07 Mar 12:37

Version 1.0.0.0
Files

Do you think this mod should be featured?
Unterstütze den Entwickler!
Jetzt mit PayPal spenden
}