John Deere 4755
V 3.1 mod for Farming Simulator 17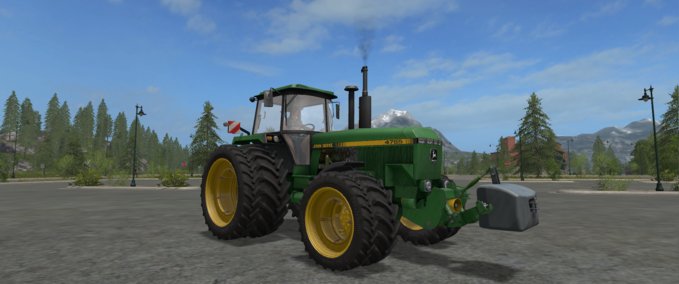 description
featured
Hereby I put the John Deere 4755 as a separate mod for download.
I've spent a lot of time on this mod to make it work.
to the details:
new wheels, new twin wheels, configurable warning signs, dynamic hoses, all-new sound, fan sound, halogen light, front loader, interactive door, rear window and side windows, many bug fixes and improvements.
The log file is error free. But if something is not right, please report it.
Credits
Modell: Alali/rafazr, AgrarDani


changes
23 Jan 18:16

Version 3.1

Error's wurden entfernt
Kühlerrotor funktioniert wieder beim Starten des Motor's
2 neue Motorkonfigurationen: 4555 und 4650

Desweiteren wurden aufgrund von diversen Anfragen ein Pack erstellt.
in dem Pack befinden sich 2 Ordner. In einem befindet sich der John Deere 4755 mit Kamerascript und im anderen Ordner der selbige, aber ohne Kamerascript.
den gewünschten Mod einfach aus dem Ordner rauskopieren und in den Modordner legen und den Rest dann löschen.

21 Jan 22:08

Version 3.0

- Fronthydraulik eingebaut
- Pflegebereifung eingebaut
- Zwillingspflegebereifung in US Version eingebaut
- gelbe Zwillingsbereifung eingebaut
- Eigengewicht auf ca. 8500 kg korrigiert
- die Türe kann jetzt auch von aussen geöffnet werden
- Lenkung real eingestellt (beim Lenken stellen sich die Räder schräger)
- alle Lichter verbessert
- Blinker und Licht an den Armaturen eingebaut
- Decals komplett neu erstellt
- Heckscheibe ersetzt
- Scheibentextur angepasst
- 4 Arbeitskameras eingebaut
- diverse kleinere Korrekturen und Verbesserungen
- nicht benötigte Dateien entfernt

25 Nov 11:57

Version 2.1.1

Neues Lenkrad
kleine Fehlerbehebung

19 Nov 14:41

Version 2.1

Frontlader vorläufig entfernt (es gibt Probleme, an die ich mich noch erarbeiten muss, tut mir sehr leid)
Breitreifen hinzugefügt
Drehlichter hinzugefügt
weitere kleine verbesserungen

18 Nov 00:03

Version 2.0

Do you think this mod should be featured?
}