John Deere 8000 Series
V 4.0 Final Beast mod for Farming Simulator 17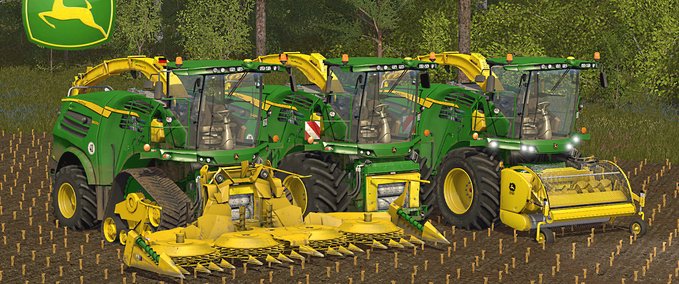 description
featured
Hello Modhoster Comunnity! :) I'm proud to present you my totally new John Deere 8000 Series forage harvester in farming simulator 2017.
It has been reprogrammed, it all took a lot of hours with pack of cutters inside.
All working on basic script including nice washable, indicators inside, lightning and more...
During tests No Log Errors has been detected! Fehler frei!
8300i Power: 455 ps Price: 260.000

8600i Power: 582 ps Price: 315.000

8800i Power: 755 ps Price: 350.000

John Deere Cutter 686 Width: 6m (recommended for 8300i and 8600i)

John Deere Kemper 390 Width: 9m (recommended for 8800i)

Zürn Profi Cut 620 Width: 6.2m 

John Deere PickUp 659
On the 3 first pictures there are no beacon lights but they are added, look picture 4 :)
Remember about respect for this great model author. Most sinister, thank you!
Please do not edit this version! This is V1.0 and i can make next one!
Please keep only my download link!
Credits
Modell: Most Sinister, Marthu
Textur: Most Sinister, Marthu
Programming: Marthu 
changes
16 Jul 19:24

Version 4.0 Final Beast

Hey, die neue V4.0 ist derzeit eine vollendete Version der John Deere 8000i Serie. Hat viele neue Optionen/Konfigurationen und kleine Fehler verbessert. Viel Spass!

Änderungsliste für Jaguar V3 Final Beast:

- Verbesserte Textur, Farbe, Glanz und Schmutz
- Neue Michelin Reifen -> 3 Arten von Reifen (Michelin, Michelin XL, Michelin XM)
- Neue Tracks konfigurationen mit Michelin Reifen
- Dynamischer Schlauch hinzugefügt (Dynamic Hose)
- Fahnen auf der IC Taste
- Neue Design konfiguration (Agravis)
- Registrierung Konfiguration
- Verbesserte Lenkung
- Verbesserte Motorleistung
- Bessere Maisanimation
- Sounds aktualisieren
- Neue RDA System
- Neue reale Abgasanlage
- IC Animation änderungen
- Die Beschreibungen der IC Animations funktion wurden korrigiert
- Visuelle Verbesserung der Lichter
- Änderungen an alle Schneidwerke -> Texturen, Befestigungspunkte und Drehungen
- Bessere Optimierung für Multiplayer.
- Und ein paar andere, die ich mich nicht erinnern... ;)

*** Sie müssen nicht auspacken! Es gibt die John Deere Pick Up (639,649,659), John Deere/Kemper 390, John Deere 686 und Zürn Profi Cut 620 ***

*** No Log Errors! Fehler frei! ***

Bitte keine Änderungen vornehmen in diese Version!
Bitte behalten Sie nur meinen Download Link!

02 Sep 01:04

Version 3.0 Final Beast

Hello all! My John Deere 8000 is finished and this is the last 3 Final Version. It has many corrections and changes.

List of all changes:
- For better optimization, there is no mess in zip file
- Many texture changes
- All engine versions available (From 8100i to 8800i)
- Engine decals are fixed!
- New fixed engine power, up to 843 HP!
- Added Crawler Configuration: 600DT Deluxe Tracks and 36inch Tracks
- Added front Twin Wheels
- Back rims Corrected
- All JD PickUp Versions to choose: 639, 649, 659
- Added Dynamic Exhaust
- Threshing Sound Update
- New Joystick Script
- New IC Buttons
- Fron Warning on IC Buttons
- RDA in wheels on IC Buttons
- Added Passenger Script
- All cutters have corrected attacher
- Pipe changes
- Cab scale changes
- New store pictures, price and many other...

Have a good game, Marthu ;)

Please do not edit this mod!
Please do not change my link!

26 Feb 15:33

Version 2.0

Verion 2.0 is ready and including massive amount of corrections.

Most important of them:
- Fixed engine torque (now real power)
- Added new model 8100i (smallest 340 PS)
- Joystick Animation
- Interactive Control (IC)
- Animated Doors, Steering Wheel Column, Folding mirrors (IC)
- Added new set of tires
- Added pipe lights
- Added Fuel Indicator (Hours and Hectare counter is on the right screen)
- Programmed Zurn Trailer
- Fixed chaff animation
- Fixed attacher rotations in all cutters. Yes, now you can lift JD grass Pickup.
- And some other...

Have a good game, Marthu ;)

11 Feb 15:18

Version 1.0
Do you think this mod should be featured?
}