John Deere 8520 FH
V 2.0 Washable mod for Farming Simulator 15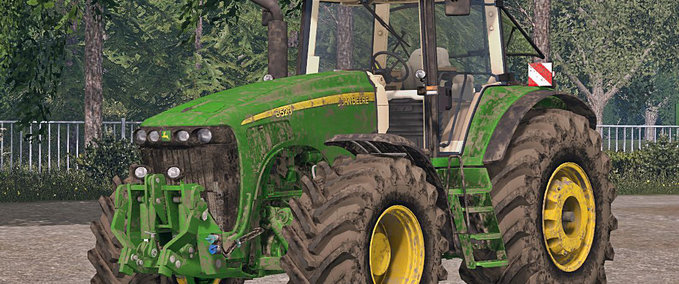 description
featured
John Deere 8520 FH v1.0

features:
-Opening Bonnet (Panel IC)
-Ability To open the left door on the outside of the tractor (outside-key R)
-Animated joystick
-removed All detected errors
-New Darker Dynamic Exhausting System
-Corrected Ploughing Spec
-Washable [Wheels]
-Adjusting The steering column (Panel IC)
-Indoor sound
-Panel IC
Source mirrors on the button-key L
-Twin Wheels (outside-key R)
-Folding Front arm (Panel IC)
-Opening Doors, rear window (Panel IC)
-WarningSigns On the button-key R
-Work Light, turn signals
-SpeedDisplayControl
-RPMDisplayControl
-Extra Weights in wheels-Key Num 7
-Animated Many other parts
-and More ...

* Log is clean.
* Keep original download link (In Particular, for a guy nick "Sherval90").
Credits
Model:Sotillo
Textur:Sotillo,TomasT150
InGame:Sotillo,TomasT150,Rysiu77
New parts model:TomasT150
Script:Commercial,MMI,Sotillo,TomasT150,Rysiu77,Burner,Sven777b
Tester:TomasT150
changes
11 Aug 11:13

Version 2.0 Washable

*Added full washable
*Added animmation wiper (only work in the rain)
*Added folding passenger seat
*Added Mod passenger
*Added Foldable Warning sign(Panel IC)
*New skin tires

18 May 21:48

Version 1.0
images
Files
Do you think this mod should be featured?
}