John Deere 8030 Serie
V 5.0 Official Final mod for Farming Simulator 17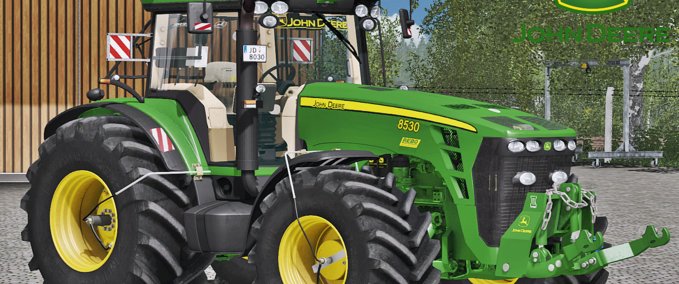 description
featured
John Deere 8530 v1 version of Farming Simulator 2017th
Characteristics of mod:
Fully washable
Wheel Shader
panel IC
Delicate shine texture
Ability to open left door on the outside of the tractor
Silenced cabin
Reclining passenger seat
opening the bonnet
Adjusting the steering
Darker Dynamic Suction
folding forearm
Opened the door, rear window
Work light, turn signals, brake lights
warning signs Folding
The dust under the wheels
Speedometer and tachometer
Movable front fenders
Animated hydraulic
Subscribe free of defects
* Please keep the original link.
* You can mod on other forums move only please copy the whole thing.
Credits
Model:Sotillo,Rysiu_77_
Textur:Sotillo,Rysiu_77_
Programming:Rysiu_77_
Script:Rysiu77,Manuel Leithner, MajsteR
Waschbar:Rysiu_77_
Sounds:Rysiu_77_ 
changes
02 Nov 23:24

Version 5.0 Official Final

*Hinzugefügt Warnschilder Konfigurationen (4 Typen)
*Hinzugefügt Arbeitsscheinwerfer Konfigurationen
*Hinzugefügt Logo Konfiguration (John Deere, Rebo Landmaschinen, Agravis Technik, B + S Landtechnik und Michelin)
*Neue Michelin-Reifen
*Neues GPS StarFire3000
*Fixed Texturen
*Neue Texturenfenster

23 Feb 22:46

Version 4.0 Final

*Fehler wurden behoben in Vorderachse, Hintere Hydraulik (Mod funktioniert nun korrekt beim letzten Patch 1.5.3.1)
*Hinzugefügt neue visuelle Konfigurationen
*Hinzugefügt 3 Arten Michelin Reifen
*Neuer Grill
*Hinzugefügt Beweglichen Kühlerlüfter
*Lichter wurden verbessert
*Neue texturen für Trelleborg Reifen
*Neue Felgenfarbe
*Korrigierte Kollisionen in Rädern
*Fehler und andere visuelle Änderungen wurden behoben

16 Jul 22:42

Version 4.0

*Michelin Reifen
*Zusatz Reifendruckanlage (RDA in wheels)
*Dynamische Schläuche (Dynamic Hoses)
*Neue AbgasEffekte
*Neue Funktionen
*Verbessertes Textur

24 Mar 20:36

Version 3.0

*Neue Funktionen auf Interaktive Steuerung
*Neue Konfigurationen von Rädern
*Voll Animation der Vorderradaufhängung
*Neue Textur Schmutz(Neue Farbe von Schmutz)
*Neue realistischere Textur und reduziertem Glanz
*Abmontiert die vorderen Kotflügel
*Mod Passagier
*Mod arbeitet mit Course Play
*Verbessertes Modell
*Neue Schaltflächen für Interaktive Steuerung
*Repariert Heckkraftheber
*Andere Anpassungen, Verbesserungen

25 Jan 21:05

Version 2.2

*Selektion:Fronthydraulik oder Frontgewicht
*Veränderter Licht
*Neue Funktionen
*Repariert alle Erkannt Fehler
*Verbesserte Texturen und Visuelle Änderungen

15 Dec 21:59

Version 2.1

*Verbesserte Texturen
*Die Wahl der Motorleistung (235PS,260PS,290PS,320PS,350 PS)
*Animierter Joystick
*Einige Bugs behoben
*Neue Animationen und Funktionen
*Visuelle Änderungen

17 Nov 22:17

Version 2.0

*Reparation alle Erkannt Fehler
*Neue textur waschbar
*Kaufen Zwillingsräder
*Kaufen Auswuchtgewichte
*Hinzugefügt Glanz Texturen

11 Nov 21:41

Version 1.0
Files
Do you think this mod should be featured?
}