KamAZ-5320 KO-505A
V 1.0 mod for Farming Simulator 17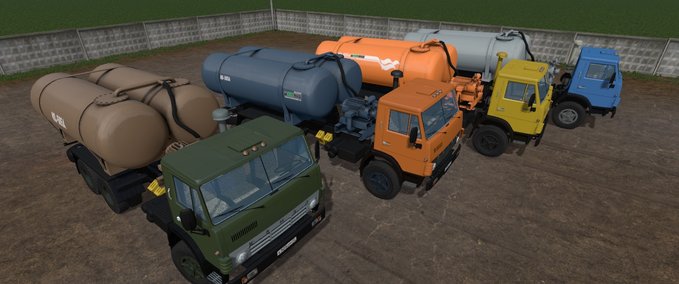 description
- Power: 154 kW / 210 hp.;
- Speed: 67 km / h;
- Fuel tank: 210 l .;
- Cost: 94 000 €;
- Cost of service per day: 80 €;
- Choice of color of a cabin;
- Choice of barrel color;
- Select disc colors;
- Choice of color of facing
- Choice of design. (barrel stickers)
- Working lighting;
- Working dashboard;
- Working mirrors;
- Leaves marks on wheels;
- Working suspension, universal joint.
- Animated mud flaps
- Get dirty and wash.
- Volume 10 000l.
Carries: liquid manure, digistat, water (takes water only from the trigger)
For those who play with GearBox mod.
The truck is fully configured to play with GearBox mod.
Gearbox selection available.
KamAZ-141 Five-speed manual gearbox with a three-way shift mechanism. Gear shifting is carried out remotely using a rocking lever.
AND
KamAZ-152 A ten-speed manual gearbox combining a five-speed gearbox and a front two-stage divider. Thanks to the divider, the number of speeds in the gearbox increases to 12: 10 forward and 2 back. Remote switching of speeds, using a swinging lever, switching of divider speeds - pneumomechanical, is carried out using a switch on the lever.
For both options, the correct number of gears and the actual gear ratios for each gear are registered.
If you play without gear box, then the truck works fine without it.
Credits
Pira Metr, Eraevgenij, arshinskiy03, Orel RuS, Alex Markelov, Andy Vertlib
Files
Empfehlungsrate
-/-
noch nicht genug Stimmen
Do you think this mod should be featured?
}