Kandelin in Mecklenburg Vorpommern
V 1.4.0.2 mod for Farming Simulator 19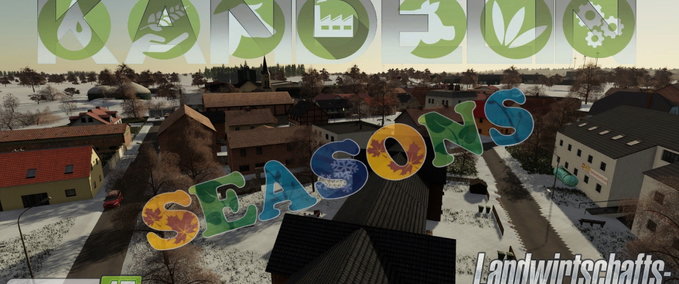 description
featured
Es ist mal wieder soweit und das warten hat ein Ende!!!
Wir freuen uns mit euch zusammen auf viele gemeinsame Stunden ins kleine verschlafene Dorf namens Kandelin in MecklenburgVorpommern zu reisen, und sich vom Alltag und dem Stress der Stadt zu erholen.
Entscheide selbst, in einer Welt voller Wunder was Du aus deinem Hof machen willst, oder entdecke in viele Missionen als Lohnunternehmer die liebevoll gestalteten Ortschaften und die Umgebung und baue dein eigenes Unternehmen immer weiter aus und produziere deine eigenen Rohstoffe und Produkte um unabhängiger von der Marktlage zu sein.
Wir empfehlen für noch mehr Spielspaß
https://www.farming-simulator.…od_id=129833&title=fs2019
Live-Support findet ihr hier https://discord.gg/42UuwMa
oder auf unser Seite unter
https://www.facebook.com/LS-17…lenburg-1424790927532808/
Ich möchte mich nochmals bei allen Bedanken, die uns so viel Unterstüzung zukommen lassen haben
ein besonderer Dank an Farmer Schubi, Basti,Christian, Katsuo, Niggels, fqC Art, Steffen und das gesamte Vertex-Team
Noch ein paar kurze Worte von mir, in diesem Projekt stecken jetzt über zwei Jahre Arbeit und eine menge Herzblut von vielen fleißigen Händen denn mein Wunsch war es immer, eine Map zu entwickeln die es Euch ermöglicht gemeinsam Spaß an diesem tollen Spiel zu haben.

Sei es das sich neue Spielgemeinschaften finden oder sich viele Menschen austauschen und sich gegenseitig helfen Probleme zu lösen, oder neue Wege zu gehen denn das sollte eine Com ausmachen und ich denke das ist uns mehr als nur gut damit gelungen wie man immer wieder auf unserem Discord oder Seite sieht also an euch alle ein riesen Dankeschön dafür.
Luan Löwe/LS17 ProjektMecklenburg
Credits
Luan Löwe/LS17 ProjektMecklenburg
changes
24 Aug 13:51

Version 1.4.0.2

Changelog 1.4.0.2
-Baywa-Bisdorf Textur Mauer beim verkaufstrigger (nur Season)
-Probleme mit Colli von mehreren Bäumen
-Schafstall Colli
-einige Eisplanen funktionierten nicht
-Schweine konnten nicht mit Schweinefutter gefüttert werden
-Kärcher Schafstall stand in der Mauer
-Schwebendes Haus bei Wiese 9
-Schwebender Baum Weide Agrar Kandelin
-Schwebender Zaun Weide Agrar Bisdorf
-Hoftankstelle Pferdehof Falsche ID zuweisung (SP & MP)
-Schwebender Baum bei Wiese 3
-Schwebender Baum bei Feld 18
-Mist spawnpunkt Schafhof
-Schwarzgelbe Markierungen bei Molkerei Arla
-Colli Weidetor Schafhof
-fehlendes Tor Schweinehof hinzugefügt
-Produktionen auf Global Company umgestellt
-falscher filltyp bei Luzerneballen
-gras wuchs nicht nach in Seasons
-Innenkamera Flugzeug gefixt
-Schafhof Sound vom ehemaligen Ballenzerkleinerer entfernt
-Problem mit Gärreste bei den BGA´s
-PFD´s angepasst
- Global Company
- und viele kleine Sachen

02 Aug 20:08

Version 1.4.0.1

Changelog 1.4
Karte
-Seasons Anpassungen
-kein GeoMod erforderlich
-Licht/Wetter Anpassung
-Patch 1.4.1 Anpassungen
-Performance Verbesserung
-Bodenwinkel Anpassungen
-Script Anpassung auf Patch
-ClipDistanzen überarbeitet
-Teraintexturen erweitert
-Englische, Polnische & Französische überstzungen hinzugefügt
-einige Terrainanpassungen
-Schwarzgelbe Markierungen erneuert (kann im Menü ausgeschaltet werden)
-neue Symbole auf der Karte hinzugefügt (kann im Menü ausgeschaltet werden)
-Verkehr angepasst
-Tiere angepasst (Script entfernt & komplette Überarbeitung)
-Fensterbeleuchtung an Häusern überarbeitet
-Bodenplatten auf allen Höfen entfernt
-Decograss kann nun durch den Landschafsbau, Pflügen sowie plazierbare Objekte entfernt werden
-Luzerne kann nun zu Ballen gepresst werden (kein Mod erforderlich)
-Luzerne Ballen können verkauft werden oder Verfüttert werden
-Rübengrütze kann der BGA zugefüttert werden
-neue Shopkategorie hinzugefügt für die eingebauten Mods
-Überarbeitung der Natur (Gras, Bäume, Büsche, etc.)
-Deko-Objekte hinzugefügt und auf Seasons angepasst
-**
Schweinehof:
-Schüttguthalle colli gefixt
-Schüttguthalle Licht gefixt
-Digistate Trigger gefixt
-2ten Unterstand verbaut und Licht verbaut
-Schweinestall leicht vergrößert
-Tipcoli überarbeitet

Agrar Kandelin

-Fahrsilos überarbeitet
-Hof überarbeitet
-Tipcoli überarbeitet

Schafhof
-**
-Grass aus Wassertrog entfernt
-Spawnpunkt mist gefixt
-Tipcoli überarbeitet

BGA Kandelin
-Tipcoli überarbeitet
-Grass aus Silo entfernt

Lohnunternemhen
-Dünger & Saatgut Ausgabe gefixt
-Unterstand verbaut

Zuchtbetrieb Augustin
-Tipcoli überarbeitet
-Futtertrigger gefixt
-Unterstand verbaut

-----------------------------------------------------------------------------------------------------------------------------------------------------
Map
-Seasons ready
-No GeoMod required
-Light/Weather Adaptation
-Patch 1.4.1 Adjustments
-Performance improvement
-Floor angle adjustments
-Script customization on patch
-Clip Distances Revise
-Teraintextures expanded
-English, Polish & French overs added
-some terrain adjustments
-Black-yellow markings renewed (can be switched off in the menu)
-added new icons on the map (can be turned off in the menu)
-Traffic adapted
-Animals adapted (script removed & complete revision)
-Window lighting on houses revised
-Floor plates removed on all farms
-Decograss can now be removed by farming, ploughing and placeable objects
-Alfalfa can now be pressed into bales (no mod required)
-Alfalfa bales can be sold or fed
-Groats can be fed to the BGA
-new store category added for built-in mods
-Reworking of nature (grass, trees, bushes, etc.)
-Added decorative objects and customized them on Seasons
-**

Pig farm:
-Bulk hall colli fixed
-Bulk hall light fixed
-Digistate Trigger fixed
-2nd shelter installed and light installed
-Pig barn slightly enlarged
-Tipcoli revised

Agricultural Kandelin:
-Driving silos revised
-Courtyard Revised
-Tipcoli revised

Sheep farm:
-**
-Grass removed from water trough
-Spawn point manure fixed
-Tipcoli revised

BGA Kandelin:
-Tipcoli revised
-Grass removed from silo

Contracting firms:
-Fertilizer & Seed Issue Fixed
-Shelter installed

Cattle breeding Augustin:
-Feed trigger fixed
-Tipcoli revised
-Shelter installed

17 May 17:36

Version 1.2.0.6

Do you think this mod should be featured?
}