Pine trees with marks
V 0.9.2 mod for Farming Simulator 15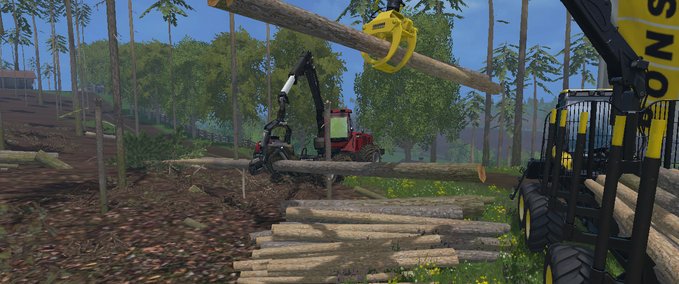 description
featured
Hello,
I add here once before my placeable pines. But these are not yet complete and still in beta !!!
They are created from scratch, and so it is possible that I could highlight some example for damaged trees that have gone (white dot) or white line for newly created skid trails.
There are different here from Krumm 33m high or 13m high and beautiful Especially!
Now it's so provide nice straight trees ans sawmill and stuck the crooked in the shredder: P
Map Modder need not ask if they obstruct these trees. All others have not released for processing or distribution in jedlicher art and white!
Credits
Modell: t0xic0m
Textur: t0xic0m
Script: t0xic0m
Idee / Konzept: Shoebeck- der mich fast dazu gezwungen hat neue Baummodelle herrauszubringen ;P
Tester: t0xic0m
Sonstige: 
changes
21 Apr 12:46

Version 0.9.2

FIX LoD Darstellung, Sorry hat ein wenig länger gedauert!
Ein neuer Baum (Beta) !!Starkholz!!

14 Apr 20:37

Version 0.9

Neue Bäume hinzugefügt (überwiegend Stärkere)
Kiefern unterstand hinzugefügt

29 Mar 17:23

Version 0.8

Es wurden nochmal alle Texturen überarbeitet
Alle Bäume wurden nochmals neu erstellt um die UV Map so anzupassen das keine Textur Verzerrungen mehr auftreten, außerdem konnte ich dadurch 3 Texturen einsparen.
Bäume sind nun Runder und nicht mehr Eckig
Jetzt ist es mir auch möglich alle Normal Maps einzubinden ohne das unschöne Fehler auftreten (zb. Schwarze Textur)
Drei komplett neue Bäume wurden hinzugefügt
Density auf 1.7 erhöht ->
Vorteil -> dadurch kommt es nicht mehr zum zittern der Stämme besonders wenn man große Greifer verwendet
Vorteil -> Kein hinauswandern der Stämme aus zb. dem Radlader Greifer
Nachteil -> Original Maschinen wie zb. Radlader hebt es Hinten leichter aus, also entweder ein Heckgewicht verwenden oder 1 - 2 Stämme weniger aufnehmen!

25 Mar 09:51

Version 0.4

Zwei neue Bäume hinzugefügt (Schlank/Gerade 24m/BHD 33cm)
Bäume Abgerundet
Fehler mit Schwarzer Textur behoben

Do you think this mod should be featured?
}