Kögel Trailer
V 1.3.1.0 mod for Farming Simulator 22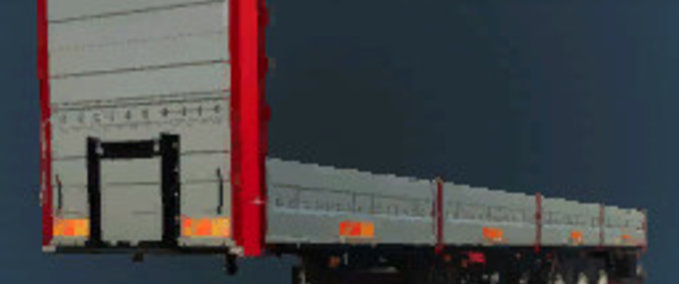 description
Kögel 16,5m Tarpaulin trailer with Pallet Autoload
The large loading area can hold a hugh amout of pallets or bales. The loading hign is configurable
Model with kind approval by Edward`s Modding.
Tarpaulin from PBS Mods by PitBullCH.
Requires the mod "Pallet Autoload Specialization" by Achimobil
Publication on other sides only by myself, linking only with original download link. NO alternative link!
Changing or re-uploading, whether in whole or in part, is not allowed!
Credits
Modell: Edward`s Modding
Textur: Edward`s Modding
changes
24 Nov 16:25

Version 1.3.1.0

- Nokian angepasst, Conti Räder hinzugefügt und Lenkradius angepasst (danke [EWW]Bobo)#
- Anpassung der 2,5m Paletten Konfiguration für das Platinum DLC

04 Oct 09:02

Version 1.3.0.1

- Trigger während der Fahrt stabilisiert
- Konfiguration für die Ladehöhe eingefügt

19 Jun 21:40

Version 1.2.0.0

- Ausklappen bei Feldarbeit deaktiviert
- Lademengen definiert
- Standarreifen neu ausgerichtet und Stoßdämpfer verbessert

10 May 16:00

Version 1.1.1.0

- Triggerbreiche optimiert

01 May 16:47

Version 1.1.0.0

- Beschreibung korrigiert
- Fehlende Texturen auf der Rückseite hinzugefügt
- Agent Node hinzugefügt
- Hydraulische Anschlüsse auf LS22 Standard gebracht
- Nummernschild Position gefixed
- Seiten klappen jetzt nicht mehr so tief dass sie in die Reifen gehen.
- Triggerbreiche optimiert, da sich diese durch fehler der Giants Engine immer noch bewegen beim fahren

11 Mar 15:30

Version 1.0.0.0

- Limitierung auf max. 78 Objekte wegen der Performance seit dem Patch 1.3
- Größenangaben überarbeitet für AD Kollisionserkennung
- Bilder mit AL Logo versehen
- Texte für Modhub überarbeitet

22 Feb 21:15

Version 0.9.0.0

- Automatische spanngurte aktiviert (erfodert Autoload 1.5)
- Verbesserte endlade und ladeposition

30 Jan 18:58

Version 0.8.0.0

- Neue übersetzungen in ES
- NF Marsch Plane eingefügt

28 Jan 14:37

Version 0.7.0.0

- Neue Übersetzungen in RU und IT
- Autoloader Mod ist jetzt als Abhängigkeit eingetragen
- Anpassung der Ladehöhe
- Vorbereitung auf Rundballen laden für die nächste Version des Autoloader Mods
- Reifen korrigiert
- Nutzungszeiten für Dreck und Wartung generell erhöht aber auf dem Feld verringert.

27 Dec 11:26

Version 0.6.0.0

- Fehlende übersetzungen eingefügt.
- Entfernung der verbliebenen LS19 EAL referenzen zur verbesserung der Performance.
- Trigger korrigiert zur Vermeidung von Überschneidungen beim fahren.
- Komische Plane durch 2 schicke Planen von PBS Mods ersetzt.

23 Dec 11:50

Version 0.5.0.0

Do you think this mod should be featured?
Unterstütze den Entwickler!
Jetzt mit PayPal spenden
}