Complex
V 6.5 mod for Farming Simulator 22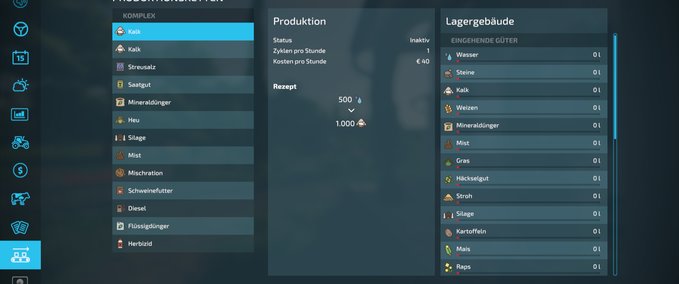 description
You know the complex of LS 19 already unfortunately I have not had the opportunity to find a nice building and to build but is times the beginning there.
Team Wolfsmodding is happy to provide you with mods and thank you for positive feedback. Want to predict more info on our mods or become a team member then just check out the Discord at: https://discord.gg/7TmrtQavW2
PLEASE ONLY LINK WITH ORIGINAL LINK THANKS
Of course, we'd appreciate a little pocket money if you like the mods.
Credits
Modell: 
Textur: 
Script:
Idee / Konzept: 
Tester:
Sonstige: 
changes
25 Apr 20:51

Version 6.5

es wurde vieles neu gemacht Texturen und vieles mehr wurde gemacht

28 Mar 06:01

Version 6.0

Es wurde der Palletenfehler behoben und ich hoffe das es auch jetzt passt bei mir funzt es jedenfalls eine Mine wurde dazugefügt und ein bisschen was erweitert

17 Mar 06:26

Version 5.5

Einiges wurde gemacht nachschauen lohnt sich

09 Mar 08:32

Version 5.0

Es wurden neue Produktionsstätte dazugefügt neue Gebäude gemacht

21 Feb 13:03

Version 4.5

Siehe Beschreibung

24 Jan 17:40

Version 4.0

Die Palleten wurden jetzt hinzugefügt und alles optimiert

09 Jan 19:42

Version 3.5

Es wurde alles nochmal überarbeitet und neu gemacht lasst euch überraschen

20 Dec 20:37

Version 3.0

gelände höhe angepasst. rampen am hallen eingang hinzugefügt für geschmeidiges einfahren

16 Dec 11:34

Version 2.5

Der Komplex wurde überarbeitet und neue Produktionen wurden hinzugefügt

10 Dec 07:20

Version 2.0

Mittlerweile hat der Komplex viele neue Dinge dazu bekommen und hat 19 Produktionsketten damit nicht genug jetzt bekommt auch der Schnee seinen sinn das heisst schnee rein Kalk und wasser raus

30 Nov 20:42

Version 1.5

Das gesamte Gebäude und die Prodiktionen wurden erneuert

27 Nov 08:40

Version 1.0
Files

Do you think this mod should be featured?
Unterstütze den Entwickler!
Jetzt mit PayPal spenden
}