Krampe BBS 650
V 1.0 Flache Ausführung mod for Farming Simulator 2013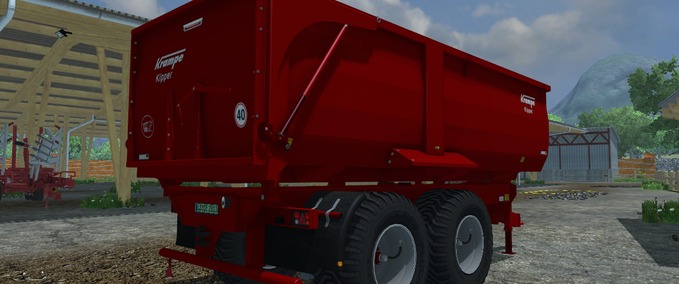 description
featured
Hi,

We even own the game Krampe BBS 650 taken from the game and created some hand.

The idea was to have a tandem trailer that has good volume but not too high, and in addition can upload everything there is to load.

As we began to cramp right :)

As usual, this can tilt to the side and rear tipper.

 

What has changed?


- Tire dust
- Washable
- Lighting v3.1 (2)
- Sidelights
- Reverse light
- Additional brake light
- Binker left / warning / right
- Spotlight Back (On trailer (press the G) and then press numblock 5)
- New wheels

The following fruits can be loaded:

# wheat
# barley
# rape
# corn
# potatoes
# beet
# grass
# straw
# silage
# chopped
# Concentrates
# crap

This pendant will be gradually expanded as new crops come out.

He was tested in SP and MP and is:

LogFehlerFrei!

Big thanks to Thuruk for help with this project!

As always:

* It is not allowed to upload the mod again!
* This mod may not be offered without the express permission ONLY HERE FOR MH!
* If you have problems please report to userem forum!
* We will not respond to support questions!

Happy Farming and Happy wishes Fieldstar modding team!
Credits
Model: Giants / [FSM]Chefkoch
Scripts: Sven777b, Manuel Leithner,
Räder: agrotron 155
Arbeitsscheinwerfer: fendthannes
Planen und Bel Einbau: Thuruk
changes
31 Dec 12:56

Version 1.0 Flache Ausführung
Files
checksum:
5efbde88520f273e4783a3abd41462a0
Version:
1.0 Flache Ausführung
multiplayer ready?
no
Author:
GIANTS + [FSM]Chefkoch
price in shop:
24999 LS
name in shop:
Krampe BBS 650 CE
description in shop:
Tandem 2-Seiten Kipper flache Ausführung.
Zum Transport von Weizen, Gerste, Raps, Körnermais, Silage, Gras, Kartoffeln, Mist, Zuckerrüben, Häckselgut, Schwaden und Kraftfutter

Do you think this mod should be featured?
}