Krone ZX550GD
V 1.1.2.1 mod for Farming Simulator 17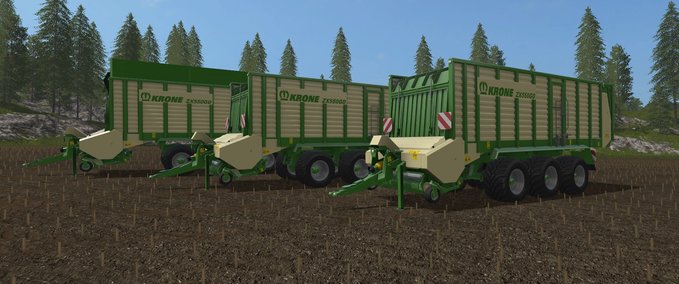 description
featured
Here I have for you the crown ZX550GD. It is a umgeskinnten Strautmann.
It can be purchased, other tires, and an additional rotating beacon. Furthermore, it is available with top boards.

Loading capacity: 53500 l
Loading capacity: 71500 l

In another Mod is also the crown ZX450GD from me.
The Mod ran flawlessly for me. Should at any of you show error, please me share this with.
For criticism I have. But please constructively and objectively.
And now I wish much fun with the mod!
Greeting Landei
Credits
Modell: 
Textur: 
Script:
Idee / Konzept: 
Tester:
Sonstige: 
changes
05 Jan 15:57

Version 1.1.2.1

Den Ladungsberg wieder wie in der vorherigen Version erstellt. Leider funktionierte dann das Häckseln nicht mehr.

04 Jan 18:28

Version 1.1.2.0

Die Breite von dem Pickup etwas vergrößert. Jede Seite um ca. 30 cm.
Den Ladungsberg auf dem Hänger verkleinert.

03 Jan 10:24

Version 1.1.1.0

Fehler gefixt

31 Dec 16:44

Version 1.1.0.0
Do you think this mod should be featured?
Unterstütze den Entwickler!
Jetzt mit PayPal spenden
}