LS17 Westerrade
V 1.2.0.0 mod for Farming Simulator 17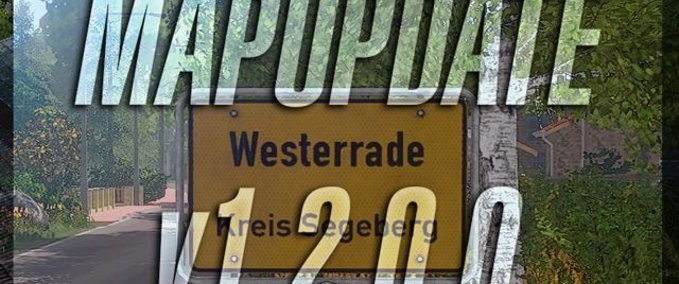 description
featured
A few dates:
75 buyable fields with sizes from less than 1 to more than 60 hectares
2 fields very cheap to buy, because littered with weeds
no start fields - but higher silo level at the start
21 purchasable meadows
Cattle and pig fattening (with suitable transport trailers in the shop)
Slurry manure-lime
prepared for:
Trousers Ref System - Chopped Straw - Grazing Animals - Seasons - Forestry purchase

optional mods:
grazing animals - Download RM_grazing_animals
Hose Ref System - Chopped Straw - Seasons - CCM - all found in the ModHub



Thanksgiving:


All modders whose mods and scripts we have used for the Westerrade - THANK YOU!
DZB The Zocker brothers - thank you for all the support, the map ideas and great teasers!
LS Pitstop - thank you for your help and support!
LS Real Drivers - thank you very much for the help!
Thank you, who waited so patiently for a new edition of the Westerrade.
Credits
Modell: 
Textur: 
Script:
Idee / Konzept: 
Tester:
Sonstige: 
changes
12 Oct 09:19

Version 1.2.0.0

- Shader überarbeitet
- Milchverkauf für Standardkühe eingebaut (Zuchtkühe wird automatisch verkauft)
- Performance noch mal überarbeitet
- BGA_Aligator Plane gefixt
- GMK_Texturen gefixt
- Mastanlagen und Futtermischer angepasst
- Feldtexturen und Blumen auf der Wiese wieder von der 1. Version eingebaut
- Sägewerk und Bretterpaletten gefixt
- diverse Kleinigkeiten ausgebessert

03 Oct 17:54

Version 1.0

Do you think this mod should be featured?