MAN TGS with Fliegl extension
V 5 mod for Farming Simulator 17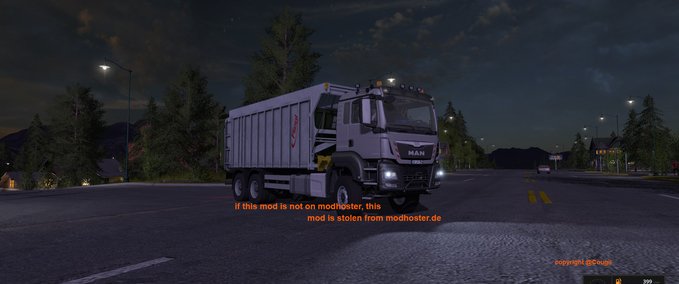 description
featured
Hi folks :)
This MAN has a Fliegl construction. the push-off is used to transport the crops.
Vehicle information:
Chassis: MAN TGS 8x8
Construction: Fliegl ASW gray / green
Sale price: € 214,500
Daily cost: 375
Speed: 80km / h
Engine performance: 36PS0, 460PS, 580PS
Particularities:
selectable colors for cabin and wheels
selectable engine performance
optional Trailer coupling
different Frontguard
selectable tires (streets / agricultural tires with different rims)
Work light to the front and to the sides
Credits
Modell: GIANTS, Klawkalash, Cougii, 
Texturen: GIANTS, Klawkalash, Cougii
Tester Singleplayer: KingQuantum, Cougii
Tester Multiplayer: Joe_Matthew, Malle, Cougii
Licht-Coronas von "New lights" by Ziberg
LKW-Teile by freak36558
changes
15 Jul 00:09

Version 5

- Fahrgestelle überarbeitet
- Rücklichter in LED-Optik
- Anpassungen Fahrverhalten

18 Jun 13:54

Version 4.2

Bugfix beim 1-3er Fahrgestell: Die letzte Achse soll gelenkt sein, ist sie aber nicht...

17 Jun 23:33

Version 4.1

- Luftdruckregelanlage entfernt
- Motorleistungen angepasst
- Hintere Lenkachse beim 8x8 entfernt

10 Jun 00:39

Version 4

- Überarbeiteter Fliegl-Aufbau.
- Neues Fahrgestell.
- Anpassungen beim Fahrverhalten.
- Kennzeichenscript.

03 Mar 23:50

Version 3

- Fehler behoben: letzte Achse war nicht angetrieben.
- Änderung im Kaufmenü - Menüpunkt Design: Neues Design hinzugefügt.
- Es wurden irgendwelche Dinge an der Fillplane gemacht, zumindest was das Abladen betrifft.
- Die Abdeckplane wurde wieder entfernt.

07 Jan 13:13

Version 2

- Neues Fahrerhaus
- Zierstreifen entfernt
- Optische Zapfwellenverbindung
- Neues Reifenprofil
- Animierte Antriebswellen eingefügt
- Preise / Spritverbrauch und andere Angaben angepasst

17 Dec 00:40

Version 1.7.4

Do you think this mod should be featured?
}