Map
V 1.35 mod for Farming Simulator 2013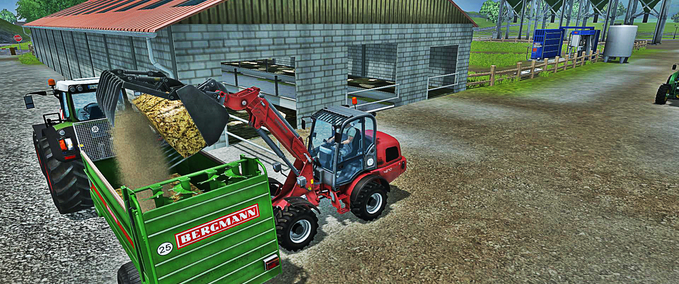 description
The time has come to my map v1.35 is now ready. Emphasis in this version on the "bull stable"

The crap you can out of the barn can go into a so-called interim storage (dunghill) There is also dunghill of the fields 16-14, 18, 20 a total of three manure pile where you can hinkippen the crap and then can load the manure spreader. (See pictures & video)

Changelog v1.35

    Bull stable or barn has been added
    New plans for the barn manure
    DoorTriger for the barn has been added
    Some fields were ordered and merged
    and much more.




Changelog v1.3

    Dunghill nuzbar the yard as storage sites
    Dunghill in the fields 18, 20 and between 14-16
    Details (street posts, mushrooms on a sheep, signs, etc.)
    Lanterns onto the courtyard with function
    Shop now with light (see pictures)
    and much more.



Changelog v1.2

    Plane has been adjusted in the cow dung
    Splines of the milk trucks were adjusted
    Floodlight mast was adapted (from light source)
    Maximum number of cows was set at 100 (100 cows and 40 cows visible album) NOTE keep performance in mind!
    14,15,17 fields was adjusted so that the helper now works properly
    Signs were placed
    New grass texture and corn texture
    and much more.



Changelog v1.1

    A company sign was affixed
    A flag was set
    The gas station was changed
    The yard was fenced
    The silo now has gotten tires once you get it conceals
    On the pasture grass was planted
    On the farm is now (lights go on from 22:00 clock) floodlight mast that works well
    A workshop was placed on the farm
    The charging point for beets and potatoes were added
    The ball sales was also offset
    The sheep pasture is now just around the farm
    and much more.



Credits
Original map: Giants
Modification and adaptation: Mario

Suitable for SP :: MP:


The LS venue Have fun with this Map

For questions and support forum on www.the-ls-treffpunkt.de



The map can be sold on other sites.

 
Untestüzt the work of modders and uses the original download link.
Credits
Mario
DTP (der ls treffpunkt)
changes
22 Mar 11:58

Version 1.35
Files
| | |
| --- | --- |
| checksum: | 799f43e9e025e6c026edb3f5b9f4301c |
| Version: | 1.35 |
| multiplayer ready? | no |
| Author: | Mario |
| price in shop: | LS |
| name in shop: | Map by Mario v1.35 |
| description in shop: | Support nur auf www.der-ls-treffpunkt.de |

Do you think this mod should be featured?
}