MB Sprinter 311 - 318 Workshop Van
V 1.0 mod for Farming Simulator 17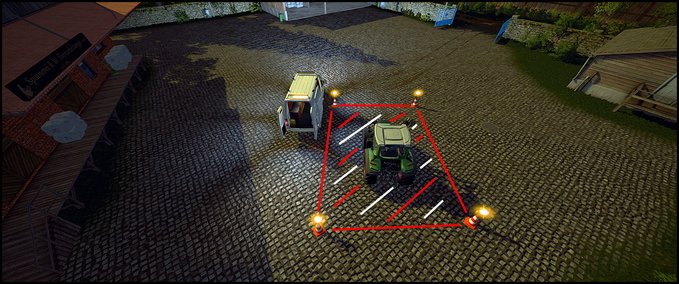 description
We converted our Sprinter Transporter into a workshop car, the vehicle was equipped with workshop equipment and a workshop trigger, as it is known by the dealer. So you can use this vehicle anywhere on the map to configure its tractors or machines.
All bugs known by the transporter were fixed in this mod.
If you notice any, please contact us.
There are some configurations in the shop, which will also get the van, but this workshop car is NOT an update to the transporter, but an independent version.
Vehicle data (basic model)
- 5 € / day
- 75l tank capacity
- Vmax 120 Km / h
- 80Kw / 109PS
- 29,990 € purchase price
All variants contain the following ...
- Animated doors (driver, front passenger, sliding door, rear doors)
- Environmental badge Blue Euro 6 (with license plate, illuminated)
- Passenger script
- Indicator Script
- Cockpit illuminated and animated (speedometer, tachometer,
Fuel gauge, turn signal, high beam and quarter light)
- Trailer hitch
- Load compartment lighting
- Mini model on dashboard
- Daytime running lights
Configurable in the shop
- Selection engine -
(Nameplate changes to rear door)
311 Cdi with 109 hp
313 Cdi with 129 hp
316 Cdi with 156 hp
318 Cdi with 190 hp
- Selection rims -
8 variants, road tires
- Selection rim color -
33 colors selectable
- roof warning lights -
Rotating lights (front L + R)
Lightbars (front)
Lightning bar (front + rear)
- Bull Catcher -
Bullbar I (with lighting)
Bullbar II
- roof box -
(with Rul (4 pcs.) and optical warning device)
- Bumper -
unvarnished
painted (body color)
Warning stripes (red - white)
- Labeling -
Workshop & breakdown service 24h
(Front, side, rear)
- lamp bracket -
Front top, 4 headlights
- Work Light -
6 pieces on the roof (side, rear)
- front flashers -
2 pcs in the grill
LightAddon is required
Files

Empfehlungsrate
-/-
noch nicht genug Stimmen
Do you think this mod should be featured?
}