Milk Trailer
V 1 mod for Farming Simulator 2013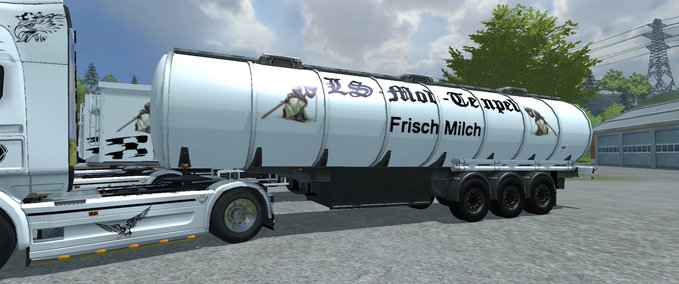 description
featured
With this pendant can be sold milk from the cows.
It can be at the same point which is also the fill MilkTruck collects the milk and can be sold at the start position MilkTruck at the dairy.
SP / MP tested.
This is a trailer from ETS2, which I converted to LS and the milk was used by many scripts, and with the help of Marhu, at this point again THANK YOU for your quick help.
The light scripts V. 3.1.2 is also installed.
Credits
Model: SCS
Scripte: Marhu und Sven777b
Umbau und in Game: unicorn0007
Files
checksum:
2a3078d9dd32b540d87f412d35fb546f
Version:
1
multiplayer ready?
no
Author:
unicorn0007
price in shop:
48060 LS
name in shop:
Mobiler Milchtank
description in shop:
Damit kann Milch von den Kühen bei der Molkerei verkauft werden (an den selben Positionen an den der Milchtruck hält)
und er wird benötigt um die Kuh Zuchtanlagen mit Milch zu versorgen.

Do you think this mod should be featured?
}