Multifruit silo with extension
V 4 mod for Farming Simulator 19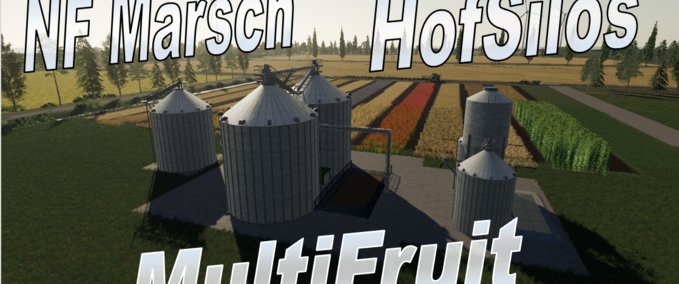 description
featured
Hello,
This pack also includes a Multifruit Hofsilo with 400,000 Lieter capacity, an XL silo with 800,000 L and an expansion option with 350,000 L volume. The silo is suitable for the North Frisian march but can of course be used on any other map.
The following fruits can be stored in the silos:
Wheat, Barley, Oats, Corn, Rape, Potatoes, Sugar beet, Sugarcane, Sunflowers, Manure, Lime, Seed, Pig feed, Wood chips, Soybeans, Grass, Hay, Straw, Chopped, Fertilizer, Silage, Compound feed, Rye, Hops, Onions, Millet, spelled, poppy.
Please only with original download link on other pages.
Thank you and have fun with the mod
Kind regards
FedAction LetsPlay
dani1803
Credits
fedaction letsplay
changes
13 Jun 21:45

Version 4

Neues Lager für Flüssigkeiten mit Erweiterung
Hofsilos um neue Früchte Zucker, Mehl und Pellets erweitert

21 May 21:50

Version 3

Passend zur neuen Nordfriesisches Marsch Version, ein Update vom Silo.
Nun könnt ihr Kompost und Tabak einlagern

28 Mar 18:49

Version 2

Neue Früchte können eingelagert werden (Sorghum und Mischgetreide)
Abladerohre etwas verlängert

20 Mar 13:37

Version 2

Neues Erweiterungssilo mit weniger Kapazität und günstiger Preis
Spawnpunkt beim kleinen Silo gefixt (man landet nicht mehr im Silo)

14 Mar 20:00

Version 1.0
Do you think this mod should be featured?
}