MultiOverlayV3 Hud
V 3.36 Beta mod for Farming Simulator 19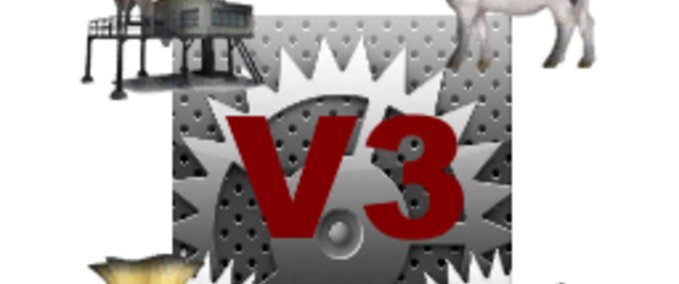 description
The MultiOverlay V3 Hud Mod is designed to give you a quick informational overview of some of the game's important features.
.
Animals, Greenhouses, Warehouses, BestPrices, Bga, Silos, Placeable Objects, Map Built Objects, FactoryScript Objects and much more via aconvenient PDA/SLOT menu
.
Please check the buglist first before reporting a bug or having problems with something. Or here you can also find me on Discord (HappyLooser#1790)

.
Configuration:(default keyboard/mouse setting)
Short guide in pictures:
Extras:
6x PDA ArtDesigns
NoHud App (check PDA Cmd) -incl. all my mods
.
VehicleSmall App (check PDA Cmds)
RunJumpFlySpeed App (check PDA Cmds)
AutoDrive Hud On/Off (check PDA Cmd)
Courseplay Hud On/Off (check PDA Cmd)
A BIG THANK YOU also to all testers who have extensively tested the new version for bugs, (2 months)beziehungweisse the mod Support or have agreed their consent for a display implementation in this mod. Trozdem it can still come to errors, because the range of functions and the very different maps / mods simply can not all be tested.
.
BugList: Fix Test Not Reproducible
.
Note:
The mod was not supposed to come out for LS19. Due to the pandemic and the necessary time I have then but still ermundert to finish. Who still needs it and wants to use it.Please. ! AND IT IS STILL AN ALPHA VERSION, PLEASE REMEMBER !
And if you don't like it you should just not load it :-)
1.Release with original download link only. NO substitute link
.
2.Modifying as well as re-uploading is not allowed
Credits
Modell: HappyLooser
Textur: HappyLooser
Script: HappyLooser
Idee / Konzept: 
Tester: ModHoster Leute und viele mehr
Sonstige: HappyLooser
changes
09 Dec 15:19

Version 3.36 Beta

--new Split 1-3 for IconText (iconsTyp 4) (1 = Full Text,not check length or overlap etc.) (3.31)
--insert Module Settings moObjectStorages and moFillTypeMovers (updateTimer etc.) (3.31)
--fix IconText Color (iconTyp 4) (3.31)
--new insert Slot Moh Module Text Color (greatDemand,Price,Amount,noAmount etc.) (3.32)
--new insert Slot Moh Module Text Prozent Color (Productivity etc.) (3.32)
--new Open/Close Cmds over Slot Cmd (Sort by Open/Close Cmds(by Moh)) (3.33)
--fix Side Notification load position over Xml (3.33)
--fix/new calculation for Slot Settings verticalTxtDistance (3.33)
--fix Lua Error for CanDeleteOldCmd On(Module(Moh) Settings) (3.33)
--insert Farmlands Cmd Hectar...(fields at farmland)+click Hectar (3.34)
--delete Farmlands -->Textcolor by FarmColor (3.34)
--fix Total Amount/Storages -->SiloExtension (3.35)
--fix FillTypeMover over MapReady (3.36)
--fix Error moMissions.lua:54: attempt to index field 'type' (a nil value) (3.36)

22 Feb 11:22

Version 3.30 Beta

--fix first Start IconFail Icons
--fix GC Productivity at Display and Storage Object
--fix Convert FillType Name over langugage.xml (name="fill_washedpotatoes" _de="Gew.Kartoffeln" etc.) !needs reg name!
--new Optional View Player Pos coordinates,under MiniMap
--new 2xPDA Cmd(incl.2xHidden Icons) invisibleAllSlots(Invisible all SLOTs) and invisibleAllPdas(Invisible all PDAs)
--new Features for Slot Cmd FillTypes/Amount/Price and FillTypes/Amount --> Sort By Amount(Default),Name or Price
--new Detector for Slot Cmds Objecs (name is >> near object (Slot Cmd Select Settings)
--new more Pda Icons
--new Bale/Pal. Storage Addon by GtX | Andy Support (Sort by ObjectStorages)
--new Missionen FillTypes #WEI for Weizen or #KAR for Kartoffeln etc. (or click % for fullname) (SP Blinking Field Mission)
--move from page 2 at page 1 --->viewApps and viewLines 1 Map Missionen
--new InGame Time DigitalClock Icons with Function (optional hours:minutes:seconds)
--new FillTypeMover Script by Farmer_Schubi Support (Sort by Factory(FM))(bsp: Porta Westfalica Map)
--new Separate Storages Cmds (Sort by Storages)
--new 1xSlot Cmd *consolenCmds* (Sort Module by Moh)
--new 1xSlot Cmd *Farmlands* (Sort Module by Moh)

31 Dec 00:43

Version 3.12 Alpha
Files

Do you think this mod should be featured?
Unterstütze den Entwickler!
Jetzt mit PayPal spenden
}