Munshausen Map
V 2.1.0 mod for Farming Simulator 19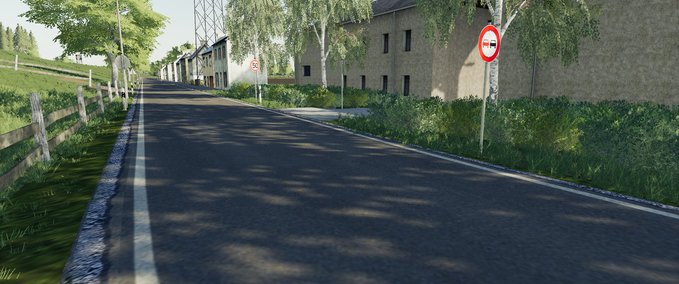 description
Hello everyone Ls 19 friends Many know the Munshausen Map from the 15er 17er and now we have brought them to Ls19 !!!
Big thanks to TuneWar for helpful tips and videos
Please read the description completely and watch the video to prevent misunderstandings !!
The map we have as good as we have in the 19 Giants editor coped with the new system to the Ls 19 brought
the map is multiplayer capable and has been tested 30 hours and there are no errors on it dipped but it should be the case the error should show up just write a message to us
You are welcome to visit us on our facebook page for news and information 
 
Link: https://www.facebook.com/Ls15Modding/
or
Link: https: //www.youtube.com/channel/UCkeLT45b72nZ9rTIUEh_hFQ view_as = subscriber?

(Description of the map)

In the little village Munshausen and Robesscheier there is a farmer's yard and a medium sized spruce forest and small to large meadows and fields they can buy everything what is buyable she has been built according to our sense
The farm consists of an old farmer's house with barn and shelter for machines Pluggable objects are not there because you can place them themselves everywhere where it is possible.

(What's new in 2.1.0)

Map enlarged
New way past the dealer
The dealer built a wall
7 fields and 4 meadows have come to it
The old high seats were replaced by more natural ones
Collision of all signs turned off
And there was one or the other improvement there will be running new versions as soon as new ideas come to us
(What's new in 1.1.0)

Map slightly enlarged and even terrain
Biogas plant Original from the rock fountain
Sales point Krebacher Mill with lime silo and land trade
Agricultural machinery retailer bit on top with shop Ico with point of sale for machines configuration and sale bale sale

Who says silly Komantare from having to give or on the Map Mäkern you need not even down to load down!
The map may not be offered on other side only with Orignal DL Link synonymous not in a modified version!
The name Munshausen and Robesscheier come from Ösling luxemburg !!
Credits
Großen Dank geht an TuneWar wegen denn Hilfreichen Tipps und Videos 
Idee: Gamer und Ls15 Modding Team
Tester: Gamer und Ls15 Modding Team
changes
15 Apr 00:48

Version 2.1.0

Was wurde in der gemacht 2.1.0 gemacht
Map vergrößert
Neuer Weg am Händler vorbei
Beim Händler wurde eine Mauer gebaut
7 Äcker und 4 Wiesen sind dazu gekommen
Die Alten Hochsitze wurde durch Natürlichere aus getauscht
Collision aller schilder ausgeschaltet
Und es wurde noch das eine oder andere Verbesser es wird Laufen neue Versione geben so bald uns neue Ideen kommen

17 Mar 03:57

Version 1.1.0

Karte bisschen vergrößert und ebenes Gelände
Biogasanlage Original aus der Felsbrunnen
Verkaufsstelle Krebacher Mill mit Kalk Silo und Landhandel
Landmaschinen Händler bisschen auf gepept mit Shop Ico mit Verkaufsstelle für Maschinen Konfiguration und verkauf

11 Mar 02:02

Version 1.0.0
Files
Do you think this mod should be featured?
}