NewHolland T7 Pack
V 1 mod for Farming Simulator 2011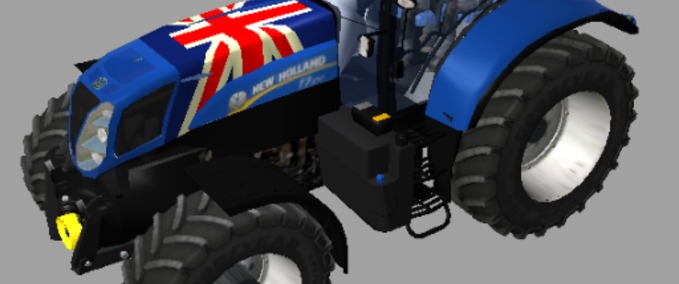 description
featured
NewHolland T7 Pack by SamN


Many thanks for downloading the mod.

Features:
MP Compatible
LightScript V3.1
Cab Suspension
Interactive Control Panels
ESLimiter
Interactive Buttons and Control
Operating Hours
Passenger Script
PowerShaft Attachers
Folding Front Linkage
Twin Beacons
CB + Aerial
3 Cameras
Opening Door, Window and sunroof
Scale 1:1
Appearable front loader on T7.200.


You are free:

To Share — to copy, distribute and transmit the work. Only the original web link address can be used, so a link to LS-UK.info must be used, opposed to the work being uploaded to another site.

Under the following conditions:

Attribution — You must attribute the work in the manner specified by the author or licensor (but not in any way that suggests that they endorse you or your use of the work).
Noncommercial — You may not use this work for commercial purposes.
No Derivative Works — You may not alter, transform, or build upon this work.

You are welcome to edit the mod for your personal use. You may not edit the model, skin, or add things on, and then release it, under any circumstances.

Any questions or doubts, contact me.  


SamN 2012



KEEP ORIGINAL LINK
DO NOT UPLOAD TO OTHER WEBSITES

Original beibehalten Link
Nicht zu anderen Websites hochladen

Zachowaj oryginalny link!
Zakaz uploadu na inne serwery!

Tartsa meg az eredeti lin
Credits
Model, Textures, Ingame - SamN
Scripts - Sven777b, JoXXer BJR, SFM-Modding,
Decal - AzoaX

Front Loader - Bigfarmer145 and Face

GIANTS Software
Files
checksum:
48b333c8f364992fb48833828da002a6
Version:
1
multiplayer ready?
no
Author:
SamN
price in shop:
80000 LS
name in shop:
NHT7.210
description in shop:
Model, Texture, Ingame - SamN Scale 1:1
Max HP 212 with EPM


(C) (CC BY-NC-ND 3.0) SamN 2012

Do you think this mod should be featured?
}