NF March 4x
V 3.0 Mutlifruit XXL Update mod for Farming Simulator 22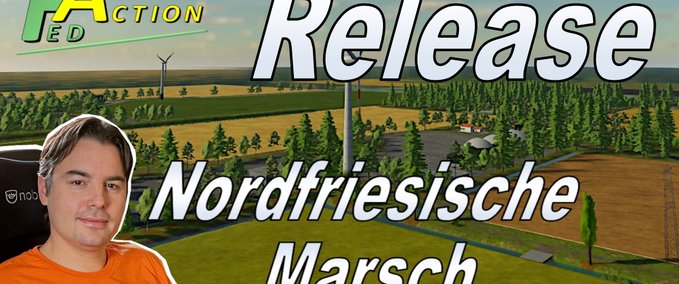 description
featured
Moin people,
On my homepage already available and now also on Modhoster and then probably on other mod portals. The map may be using my download link also on other mod sites.
.
For the map I still recommend my mod packs. Links and many info videos can also be found on my homepage.
.
The map offers among other things the following highlights
.
Fields then forest 
On the NF Marsh there are 79 fields
Sizes 0.8 ha up to 95 ha i the total area of all fields is slightly over 1000ha of which about 140ha are grassland
.
Forest area 
There are more than 150 ha of forest with countless trees which are mainly also suitable for timber harvester.

Fruits 
In addition to the standard fruits are new on the map rye, spelt, triticale and millet obstructed, as additional fill types there are on the map earth, sand and gravel


.
Vendors
Who harvests much must also sell much. For this purpose, there are 16 different outlets


on the NF Marsh 4fach.
Collectibles 
On the NF Marsh Mod Map there are 3 different collectibles to search for. These include 10 pairs of Shelly shoes, 30 FA gold coins and 78 NF Marsh pallets.
For all collectibles, there are shelves at the vehicle dealer that fill up when the objects are found. There is also a bonus for finding all the objects in a category.
If someone can not find all the objects themselves there are on my YouTube channel appropriate help videos in which I show all the hiding places of shoes, coins and pallets.          


Vacant areas 
There are at least 15 vacant areas on the map which will surely be supplied with productions by me in the course of the next months

Mod Packs
In addition to the map download there are 2 other downloads and namely the Fed Mods Pack and a Fed Production Pack which I will introduce in another video, the two mods are first a summary of all my mods for the LS22

Windmills  
On the North Frisian Marsh it is windy and there a long-term investment in wind turbines can be worthwhile.      
The wind turbines built on the map are practically only decoration and can be torn down after you have bought the land and replaced by the NF Marsch windmill 
.
Fruit icons 
All fruit icons are revised and look no longer so comic-heavy
                                                                                                                        
Missions 
Many XXL missions thanks to the map size and the field number
.
Ground textures 
With a total of 18 times baren ground textures, everyone can design his yard and his environment suitable

Many fun on the map :)

Greetings

FedAction
dani1803 
Credits
FedAction LetsPlay
changes
02 Jun 14:42

Version 3.0 Mutlifruit XXL Update

- Neue Multifruit Erweiterung mit großer Einbauhilfe von Recognice
- Savegame Umzug nötig siehe dazu auf YouTube LS22 #1076 Umzug auf die neue #NFMarsch4fach Multifruit Version https://youtu.be/71b33DPohe4
- Neue Früchte sind Leinsaat mit Leinsaat und Flachs, Mohn, Bohnen, Erbsen, Kichererbsen, Linsen, Senfkörner, Buchweizen, Tabak, Vermehrung Gras, Hanf mit Hanfsamen und Hanfschwad, Kleegras, Kleeheu und Hülsenfrucht Stroh
- 5 neue Ballensorten (Flachs, Kleegras, Kleeheu, Hanfschwad und Hülsenfrucht Stroh)
- Neue Lavendel, Luzerne, Karotten und Zwiebel Fruchttexturen
- Reifenspuren Fruchtzerstörung und Stoppel nach Ernte bei fast allen Früchten verbessert
- Oliven und Trauben Paletten geändert
- Fehlender storeItem xmlFilename="maps/vehicles/rrXL9_carrot.xml eingefügt
- Holzpreis wird jetzt in Preisübersicht angezeigt (in Map und Produktionspack)
- Gewicht von Schüttgütern wie Sand, Erde, Kies und Kalk angepaßt
- Schwebenden Baum an BGA Nord und neben Feld 35 gefixt
- Silagehaufen können nun bis auf 5 Meter aufgeschüttet werden (Bisher 4 )
- Grabendeko zwischen Feld 63 und 66 kleiner skaliert
- Zaun an der BGA Süd richtung Süden in der Kurve etwas verschoben
- Erweiterung beim Tierfutter sofern Tierställe/Map passend vorbereitet sind
- Kühe im Bereich Gras geht nun auch Klee
- Kühe im Bereich Heu geht nun auch Kleeheu
- Kühe im Bereich Mischfutter geht nun auch Kleeheu
- Schafe nehmen nun auch Klee und Kleeheu an
- Schweine nehmen nun in der Futtergruppe 1 auch Bohnen, Erbsen und Kichererbsen an
- Pferde nehmen nun auch Klee und Kleeheu an
- Hühner können auch mit Vermehrung Gras, Linsen und Leinsaat gefüttert werden
- Wechselnde Anzeigetafeln vor dem Fahrzeughändler
- Supporter und NF Marsch Bewohner wieder auf dem neuesten Stand

01 May 10:04

Version 2.7.2

LS22 Patch 1.9.1 Ready + Texturen Bodenwinkel Berichtigung

26 Apr 20:47

Version 2.7.1 LS22 Patch Ready

- Map Shader ist nun LS22 Patch 1.9.1 ready
- Englische und Ungarische Übersetzungdatei berichtigt
- Abkippbare Haufen für Zwiebeln, Karotten und Kohl zugefügt (Für Miete auf dem Feld danke an Rolf)

24 Apr 15:04

Version 2.7

- Passenden Bauplatz unter Feld 30 für die Bohrinsel vorbereitet
- Neue Filltypes (20) Rohöl, Flaschen, Einmachglas, Apfelsaft, Kirschsaft, Birnensaft, Pflaumensaft, Tomatensaft, Karottensaft, Flaschenbier Gerste und Weizen Flaschenbier, Obstler, Korn, Whiskey, Wodka, Eierlikör, Wein, Erdbeerlimes, Himbeerlimes
- BGA's produzieren etwas mehr Methan
- Die Abfahrt Begrenzung Richtung Kiesbereich hat nun Kollision
- Verkaufspreise für Lamm, Kalb und Wurst etwas erhöht
- Verkaufsstelle Gärtnerei nimmt die neuen Setzlinge Paletten aus dem Gewächshaus an
- Auto aus dem Wald auf der Insel verschoben
- Kanal Mitglieder und Twitch Subs wieder auf dem neusten Stand auch bei den Häusern, Neueinzug 67

21 Mar 15:35

Version 2.6.2

Map 2.6.2

- Map ist Göweil Pack DLC ready
- Die BGA's der MAp nehmen nun auch Zuckerrübenschnitzel Ballen an

Map 2.6
- Schweine bringen etwas mehr Gülle und Mist
- 2 neue Produkte Lamm und Kalbfleisch
- Hoffläche etwas vergrößert (näher an die Häuser)
- Feld 38 der Graben gehört nun zum Feld dazu
- Trigger am Stadion leicht vergrößert
- Stück Land für nächstes Update abgesperrt

29 Jan 20:25

Version 2.5

- Hühner und Schafe können nun auch Mist produzieren
- Große Performanceverbesserung auf der gesamten Map
- Hochsitz neben Bauplatz Mehlfabrik verschoben
- Gras aus der Halle am Hafen entfernt
- Französische und tschechische Übersetzung eingefügt
- Zaun um Feld 38 nach Abstimmung entfernt
- Schreibfehler beim Landschaftsbau Kies mit Moos berichtigt
- Supporter Listen wieder auf den neuesten Stand neuer Bewohner auf der Map mit Haus Nr. 12

03 Jan 13:43

Version 2.4. Felder und Deko Gras malen

- Map ist für Fed Produktionspack 2.2 ready (neue Produkte Nudeln, Spaghetti, Torteloni, Kartoffelsack, Zwiebelsack, Karottensack, Pilzsuppe, Tomatensuppe, Kürbissuppe, Hühnersuppe, Gemüsesuppe, Pommes, Chips, Kroketten und Reibekuchen)
- BallenTrigger an der BGA für Autodrive wieder optimiert
- Felder können jetzt über Landschaftsbau Menü gemalt werden
- Passende Wiese kann jetzt über Landschaftsbau Menü gemalt werden
- Vollmilch Englisch Übersetzung gefixt
- Achimobil hat das Boot repariert und Schiffsrouten passt nun
- Hochsitz und Hütte bei Feld 22 verschoben
- BGA Süd Wagendisplay Zahlen passend verschoben
- Zaun zwischen Grundstück 45 und 46 eingefügt
- Kleine schwebende Texture über der Verkaufsstelle Sägewerk gelöscht
- Kleine schwebende Texture über der Tankstelle verschoben
Do you think this mod should be featured?
}