NF Match Map 4x
V 3.1 Für Fed Produktionspack 2.4 ready mod for Farming Simulator 19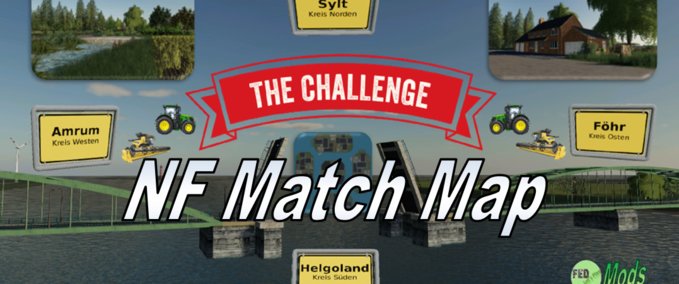 description
featured
Hey guys, let the games begin :) With the new NF Match 4x Map Multifruit you have the perfect map for exciting LS19 challenges. Which strategy is the best and leads to victory? In my introductory video you could get an impression of the map and look at our match on Youtube (fedaction letsplay) which strategy can help one to victory. The map contains all current FedMods *. And pay attention to the opening hours of the bascule bridge ...;)
The NF Match 4-fold map offers eg:
FOUR completely identical match islands with 16 fields each, own BGA, 4 sales stations each, wood sales and 3 forests
Large center island with 4 large fields and enough space for the placeable Fed Mods *
Some goal and rule suggestions can be found on signs at the shop
Multifruit: In addition to the normal fruit types, there are onions, carrots, rye, spelled, mixed grain, millet, poppy, alfalfa, sorghum and hops
* FedMods that come with the map
photovoltaic system
Wind Farm / Windmill
cottages
nursery
Greenhouse (sale of manure and manure possible)
Multifruit silos with extensions
Placeable wood sale
But the best is to watch the video and now I wish you all a lot of fun in your competitions.
These mods are urgently recommended: LS19 Place Anywhere Mod, onion and carrot harvester
The map may be set with the use of the original download links on other fashion pages.
Best regards
fedaction-LetsPlay
Credits
fedaction-letsplay + Shelly
changes
07 Sep 09:19

Version 3.1 Für Fed Produktionspack 2.4 ready

Map ist für Produktionspack 2.4 ready
(insgesamt 81 Produkte)
z.b. Haferflocken, Hafermilch, Hirsebrei, Sojamilch, Sojaschnetzel, Popcorn, Gemüsemais, Holzfass, Bienenstock, Korn, Obstler, Wodka, Whiskey, Honig,
Dedi Server Fehler nknown file type 'maps/map/Thumbs.db gefixt

06 Feb 22:16

Version 2.0 Neue Früchte und Platz für Produktionen

Alle Filltypes der 4fach Marsch V1.4 und vom Produktionspack 1.6 sind verbaut und können verkauft werden
Seasons Mod Ready
Baumarkt als neue Verkaufsstation auf jeder Insel
Platz für platzierbare Fabriken geschafft (Alte Deko Fabriken gelöscht)
Leichte Performance Verbesserung durch einige Sichtweiten Einstellungen
BGA Durchsatz angepasst
Deko Gras und Büsche malen jetzt möglich
Transportmissionen angepasst
Neue Gebäude für Punkte Paletten
Zielbereich für Punktepaletten
Erhöhen des Limits für abkippbare Haufen

04 Jul 22:10

Version 1.2 Multifruit

1.2 Multifruit
Neue Frucht Tabak
Neue Sorten Pellets, Kompost, Zucker, Mehl, Kies, Sand, Erde, Apfel, Birne, Kirsche und Pflaume verbaut
Alle Produktionen haben ein Script Update bekommen und die Displays laufen nun auch bei mehreren Produktionen
BGA Einnahmen deutlich reduziert
BGA Abkipppunkt verbessert

Verkaufsmöglichkeiten für alle neuen Früchte

08 May 18:39

Version 1.1

Geändert in der Match Map V1.1

- Karotten und Pappeln können jetzt angepflanzt werden
- Einfahrt zur Gärtnerei etwas vergrößert
- Ballentrigger Gärtnerei geht nun über die ganze Halle
- BGA Ballentrigger vergrößert und Bereich kenntlich gemacht
- BGA Silage und Güllekapazität vergrößert
- Für Bäume am besten LS19 MoreTree Mod nutzen
- Einige Feldeinfahrten und Grasränder überarbeitet
- Grasdeko in der Mitte vervollständigt

01 May 15:46

Version 1
Do you think this mod should be featured?
V 3.1 Für Fed Produktionspack 2.4 ready
V 2.0 Neue Früchte und Platz für Produk...
2 ältere Versionen
}