Frisian march
V 2.9 ohne Gräben mod for Farming Simulator 15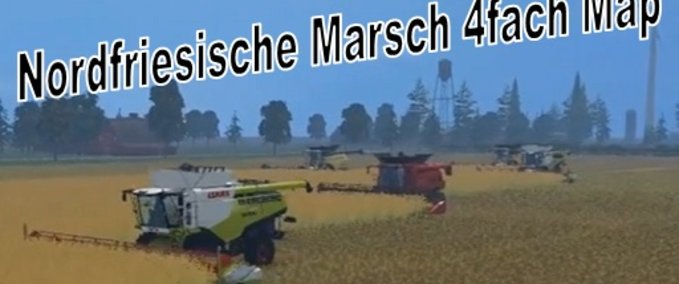 description
featured
Dear LS fans, after a long construction period, the 4x Map Version 1 is now ready and available for download.
 Hallo,
hier ein kleines Update der Map.

Fehler die Behoben worden sind
- Chopped Straw funktioniert wieder
- hud Fehler mit Sand, concrete, gravel und cement behoben
- Collision bei der Brücke gefixt
- Collison bei Getreideverkauf gefixt
- Briefkästen stehen nun
- Kein Bushalteschild mehr auf der Straße
- Das Mais Feld ist nun eigentum
- Grubber Fehler mit den vorgesäten Feldern gefixt

Es gibt ein paar mehr Autorouten auf der Map
What's new example
Mixer Factory: production of compound feed by 1. bran, grass and water or 2.Kleie, grains Meis and water

OIL economy with oil / diesel / engine oil producing and selling

Distillery for sale of barley and wheat
Broiler
4 Biogasanalgen
ca 660ha farmland
Soccer field / stadium instead of baseball field
Flour mills for wheat, barley and maize
Rapeseed for biodiesel mill
Factory for pastry and bread
Bread, baked goods and flour sales via supermarket
Zuckerfarbik for sale of sugar beets
Zellstofffabrikk for sale of wood, wood chips
Feed stores
New grain trading port - Here we can continuously delivered grain which you buy low and sell for a profit again through the sales offices
Concrete plant (with sand, gravel and cement) concrete can be sold in the village, sand, gravel and cement can be sold at the freight depot
Freight Station with trains to shutdown of cereals and wood (as in the original map)
Slurry and manure sale is at the nursery
Built wishing well for gold coins reward at the Town Hall in the village
Hofumbauten, New large cowshed, another silo, feed stores easily changed
ha Prices depend on the Endfernung the courtyard
Cattle and pig breeding
Milk may (but need not be sold itself)
Forests have new texture and are clearly reforested
100 gold coins
Wassermod
Gas station
Metzger for cattle and pigs sale
More sub-plots on the farm, biogas plant and sawmill
Some forests
Dikes, ditches, windmills, Flachlandmap
Raiffeisen At The Grist Mill
Large road network with traffic signs and adapted
Many new grass fields that need not be purchased separately
Larger Home Fleet
Customized visibility, slowing crop growth
Adjusted pedestrian
Disappeared Autokino and it laid campsite

Decoration: dustbins, power lines, more houses, PV systems
Edeka and Lidl

Amended unloading
Adapted PDA Map
New Photos
Milk factory is now Hansano
Kuhwiese the Court
Larger Sheep Meadow
The map may be set only by using my download links on other sites.
Credits
Das ist mein mod - ich bin der Modder
changes
15 Oct 16:08

Version 2.9 ohne Gräben

Die Version 2.9 ohne Gräben

10 Sep 10:54

Version 2.9

Moin moin,
nun gibts die 2.9 zum download.
Hab den Balemaster gefixt, und die Textur der Lagerhallen beim RInderhof.
Einige collisionen behoben.
Viel Spaß

01 Aug 20:56

Version 2.8 Fix

Hallo,
da die 2.7 durch den Viehhandel und neue Schweinzucht Version leider viele ander Gebäude auf der map unbrauchbar gemacht hat, hab ich die nun wieder raus geschmissen. Die 2.8 werde ich nun auch mal mp online zocken.
Der Balemaster ist zumindest geblieben und neu im Vergleich zur V2.6.
MfG

03 Jul 17:27

Version 2.6

Neuerungen und Fehlerbehebungen
- Steinproduktion mit Wasser, Sand und Kies
- Hausbau mit Holz und Steinpaletten
- Mehr Palettensammler
- Doppelte Bäume auf der ganzen map entfernt
- ca 300 Fehler für Multiplayer Server behoben
Vielen Spaß mit der neuen Version

10 Jun 15:28

Version 2.5

Neu in der 2.5
- Eierlegestation ( Muss mit Masthähnchen, Stroh, Wasser und Getreide beliefert werden)
- Bei der BGA4 kann Silo nun auch mit Anhänger eingefüllt werden
- Neue Verkausstation beim Stadion für Bier und Brot
Vielen Spaß in NF ;)

03 Jun 20:49

Version 2.4

Neu in der 2.4
Leere Holz Paletten Herstellung
Produktion Schweineschinken und Seife Paletten
Die meisten Log Fehler behoben

20 May 14:30

Version 2.3 Hopfen und Bier ohne Gräben

Die Version 2.3 mit Hopfen und Bier aber ohne Gräben

13 May 13:44

Version 2.3 Hopfen und Bier

Moin,
neu in der V 2.3. sind
Fruchtart: Hopfen
Industrie: Bier und Weizenbier Produktion und Verkauf an den Supermärkten.
Wollepalettensammler
Neues Getreidelager für alle Fruchtarten
Schwebene Mülltonnen beim Händler gefixt
Viel Spaß euch allen mit der neuen Map Version

29 Apr 14:34

Version 2.2

Neu jetzt mit Sägeindustrie.
Sägewerk zum herstellen von Holzpaletten, die können weiter zur Holzscheiteln verarbeitet werden und dann zu Holzkohle weiter verarbeitet werden.
Viel Spaß mit der neuen Version :)

10 Apr 19:59

Version 2.1 Fix

Leider gab es Betonwände auf einem GrasFeld die jetzt in der neuen Version aber entfernt wurden. Tankstellen Bezweichnung, Preise für Diesel und fuel an den Tabkstellen noch etwas angepasst.

08 Apr 15:20

Version 2.1 MultiFruit

Es gibt wieder eine neue BGA mit den großen Fahrsilos.
Neu auch eine Lagerstätte für die neuen Fruchtsorten
Kleine Fehler behoben
Viel Spaß mit der neuen Version

05 Mar 17:03

Version 1.7 ohne Gräben

Die 1.7 ohne Gräben für einfaches Arbeiten.

13 Feb 12:00

Version 1.7

Moin,
in der Version 1.7 sind die Texturen noch mal etwas geändert. Der Wäscheständer auf der Insel im Feld ist weg und die Bodenunebenheiten auf der Insel sind auch behoben.
Vielen Spaß mit der neuen Version.
Files
| | |
| --- | --- |
| checksum: | 33effed01534b48f9a15eac693d08181 |
| Version: | 2.9 ohne Gräben |
| multiplayer ready? | yes |
| Author: | dani1803 - free-handy24 |
| price in shop: | LS |
| name in shop: | Nordfriesische Marsch 4 fach |
| description in shop: | Viel Spass auf der Nordfriesische Marsch 4 fach Mod Map |
Do you think this mod should be featured?
}