0 Downloads today
2,989 Downloads total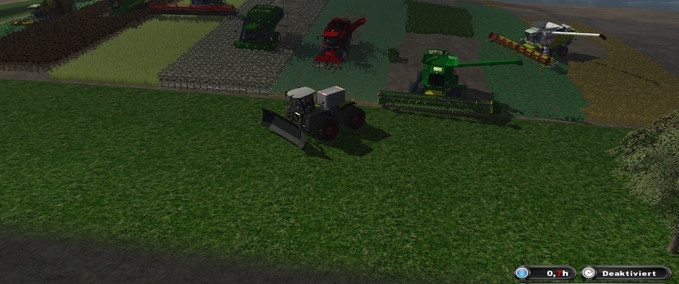 Open Range map v 5.2
OpenRange map mit Viehzucht,multifrucht
Updates: Flutlichter leuchten nur nachts, Licht heller, Neuer Schlachthof,Be- und Entladetrigger verbessert, Feldgrenzen nachbearbeitet, kleinere Fehler beseitigt. Im Paket ist der Baumwollernter, Josera trailer, und Vieh und Fleischtransporter dabei
Rinder- und Schweinezucht mit Vieh und Fleischverkauf aus der Aichmap
Fruchtsorten: Baumwolle, Zwiebeln, Zuckerrüben, Kartoffeln, Hafer, Sonnenblumen, Mohn, Reis und die Standards.
Auf dieser Map wurden fast ausschliesslich HD Texturen verwendet. Sie ist ausgelegt für den Einsatz von Großmaschinen.
Die Rinder und Schweine können an den Verladerampen bei den Ställen in den beiliegenden Viehtransporter verladen und zum Schlachthof gefahren werden. Anschliessend kann das Fleisch mit dem Kühl LKW bei Lidl oder McDonalds wieder verkauft werden.
Version mit großer BioGas Anlage, mit 3 Silos und großem Silageberg. Das angelieferte Material kann entweder siliert oder auch direkt verkauft werden.Ein Verkaufstrigger für Mist und Gülle ist ebenfalls in der BGA vorhanden.
Verkaufstellen:
Cimbria Heid Saattrocknung, Lagerhaus, Rübenfabrik, Müllermilch, BioGas, Lidl und McDonalds
Als Zwischenlager gibt es einen großen Haupthof mit anliegender Milchviehwirtschaft.
Die map hat 17 groß angelegte Felder, das original Straßensystem mit funktionierenden Ampeln und einigen STVO.
Beim Kuhstall ist ein Silo mit Heady´s BGA Silo verbaut, wo ihr das silierte Material entnehmen könnt und an eure Kühe verfüttern müsst.
Alle Abladestellen sind mit Flutlichtern zum nächtlichen arbeiten und Waagen vom EIFOK Team ausgestattet. Dazu benötigt ihr folgende extra mods:
http://planet-ls.de/board/index.php?page=Thread&threadID=12960
dort die BGA Silo V2 wenn ihr die Silage auch verdichten wollt ansonsten reicht die V1.4,
Ebenfalls von Planet-ls.de eine Siloschaufel mit der ihr das Silo entladen könnt
Hier findet ihr den mod für die Waagen:
http://www.eifok-team.de/forum/index.php?page=DatabaseItem&id=56
Hier noch links zu nützlichen Geräten, Erntemaschinen etc für die map:
http://www.modhoster.de/mods/john-deere-s690i-superrotor--2
http://www.modhoster.de/mods/kleine-beetliner-compact
http://www.modhoster.de/mods/holmer-t3-terra-dos--5
http://www.modhoster.de/mods/ropa-eurotiger-und-brantner-tridemhaenge--2
http://www.modhoster.de/mods/deutz-intrac-660--2
http://www.modhoster.de/mods/xerion-saddle-trac-pack
http://www.modhoster.de/mods/multifruit-geraete-package
http://www.modhoster.de/mods/man-x-tremetruck-und-bitrem-trailer-mult--2
http://www.modhoster.de/mods/brantner-silo-wechsler--2
http://www.modhoster.de/mods/fahrzeugupdate-aichmapv4
http://www.modhoster.de/mods/tandemtrailerpack-fuer-die-aichmap
Der mod darf  auf anderen Seiten veröffentlicht werden so lange der ORIGINAL LINK verwendet wird!
Es dürfen keine Teile aus diesem mod unter anderem Link veröffentlicht werden !!
The mod may be published on other sites as long as the ORIGINAL LINK will be used!
There may be no parts of this mod publicated !
Le mod peut être publié sur d'autres sites aussi longtemps que le lien original sera utilisé!
Il peut y avoir aucune pièce de ce mod publicated!
O mod pode ser publicado em outros sites, desde que o link original será usado!
Pode não haver partes deste mod publicated!
Mod moga byc publikowane na innych stronach tak dlugo, jak oryginalny link bedzie uzywany!
Nie moze byc czesci ten mod publicated!
A mod tehetok közzé más oldalakon, amíg az eredeti link fogja használni!
Lehet, hogy nem részei ennek a mod publikált!