Pack Joskin Wago BaleTrailer AUTOLOAD
V 1.0.3 Autoload mod for Farming Simulator 17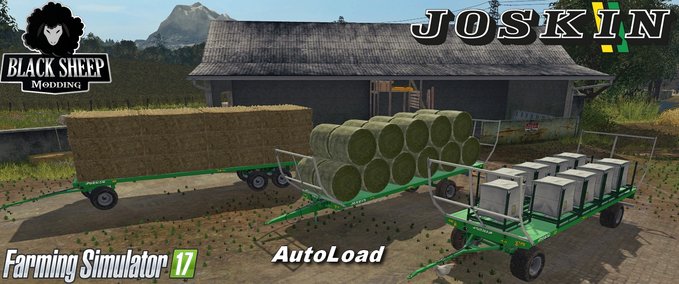 description
featured
You can load your trays automatically from SquareBales, Roundbales, Wool pallets and other pallets
Big thanks to HoT online Team for permission use the script 
Pack of 3 Bale trailer Joskin Wago.
With Option Adding Wide Range
in the garage.
with strap
With rotating beacon
Trailer with tie
-1 Wago 10m Trailed
-1 Wago 8m Trailed
-1 Wago 8m semi-mounted single axle
Modelle sind LOG FREE
Résultat de recherche d'images pour "joskin logo"
https://www.facebook.com/Blacksheep.Modding/
Map: Old Streams Map Fs17 WIP Download 26/11
Please respect my work and use the original download link!
Thank you for all your donation
Ein Dankeschön
!!! Achtung !!! Wichtig !!!
Dieses ist noch ein Beta-Mod. Support Script erhaltet ihr ausschliesslich hier: BUURE-FORUM
Das hat ausschließlich damit zu tun, euch eine einzige zentrale Anlaufstelle zu bieten, damit die Übersicht nicht verloren geht.
Credits
Modell: Blacksheep Modding
Script: HoT online Team


changes
21 Nov 16:15

Version 1.0.3 Autoload

Do you think this mod should be featured?
Unterstütze den Entwickler!
Jetzt mit PayPal spenden
}