Gas station with shelter and night light
V 1.0 mod for Farming Simulator 17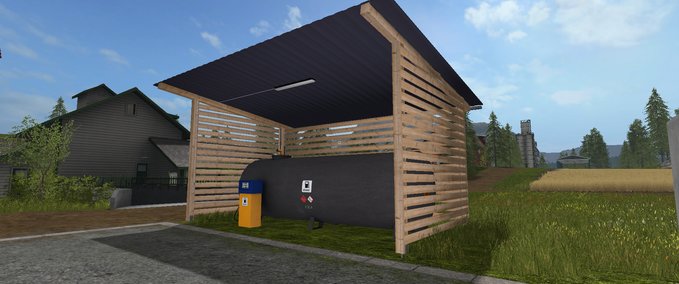 description
featured
Platzierbare Tankstelle mit Unterstand und Nachtlicht LS17
Beschreibung:
Heute habe ich für euch eine frei Plazierbare Tankanlage, diese hat die normalen Eigenschaften wie die Standart Tankstelle die auf eurer Karte zu finden sein sollte. Das Geld wird beim Tankvorgang direkt von euren Konto abgebucht!
Ich habe absichtlich auf einen "Boden" verzichtet, ich finde das sieht immer ein bisschen blöd aus. Deshalb solltet ihr euch eine relativ Ebene Fläche zum Platzieren suchen! Das Licht schaltet sich erst in der Nacht ein!!!
Wenn euch dieser oder einer meiner anderen Mods gefällt, lasst gerne eine Spende da. Dieses Geld hilft mir um neue und schönere Mod´s zu erstellen! Das Geld wird zb genutzt um Modelle oder Texturen zu kaufen!
Sonstige Informationen:
Euer Feedback ist mir wichtig, deshalb schreibt in die Kommentare was euch gefällt oder was euch weniger gefällt! Wichtig ist mir hierbei das ihr Konstruktive Kritik übt, alles andere wird gelöscht oder Ignoriert! Lasst auch eine Bewertung und Empfehlung da wenn euch der Mod gefällt, dauert wirklich nur 5 Sekunden ;)
Problembehandlung:
Wenn ihr Probleme mit der Mod habt, könnt ihr mir direkt eine Persönliche Nachricht schreiben mit eurer "Log.txt" Datei im Anhang und einer Ausfühlichen beschreibung eueres Fehlers! Ohne eure Log Datei kann ich euch nicht helfen und es wird um einiges länger dauern bis ihr den Mod im vollen umfang nutzen könnt!
Respect for Modder?
Da ich es nicht verhindern kann das der Mod auf anderen Seiten auftaucht, bitte ich euch aus Respekt vor der arbeit die ich mir gemacht habe, den Original Download Link zu verwenden!!!
RESPECT MODDER,
PLEASE USE THE ORIGINAL DOWNLOAD LINK, THANKS!
Credits
Modell: t0xic0m
Textur: t0xic0m
Script: t0xic0m
Idee / Konzept: t0xic0m
Tester: t0xic0m
Sonstige: t0xic0m

Do you think this mod should be featured?
Unterstütze den Entwickler!
Jetzt mit PayPal spenden
}