UPK gas station (Fillable)
V 1.0 mod for Farming Simulator 17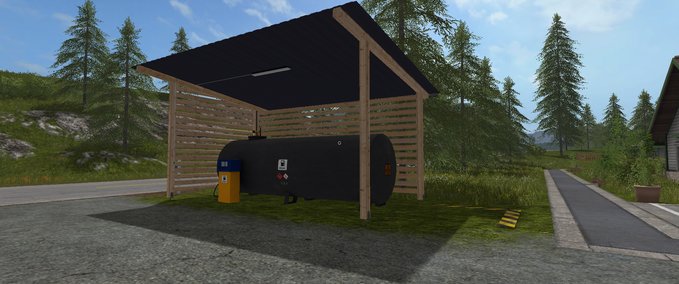 description
featured
Platzierbare UPK Tankstelle zum selbst Befüllen  LS17
Beschreibung:
Heute habe ich für euch eine frei Plazierbare UPK Tankanlage! Bevor ihr Diesel entnehmen könnt müsst ihr den Tank mit Diesel auffüllen! Der Trigger zum befüllen ist seitlich im Markierten bereich! Die entnahme erfolgt bei der Zapfsäule! Fassungsvermögen ist 8000L
Bei diesen Mod kommt wieder das Universal Process Kit zum einsatz, unter diesen Link könnt ihr die neueste Version herunterladen ->
http://download.universalprocesskit.de/
Nicht vergessen, ihr müsst das UPK bei Spielstart aktivieren!!!
Wenn euch dieser oder einer meiner anderen Mods gefällt, lasst gerne eine Spende da. Dieses Geld hilft mir um neue und schönere Mod´s zu erstellen! Das Geld wird zb genutzt um Modelle oder Texturen zu kaufen!
Sonstige Informationen:
Euer Feedback ist mir wichtig, deshalb schreibt in die Kommentare was euch gefällt oder was euch weniger gefällt! Wichtig ist mir hierbei das ihr Konstruktive Kritik übt, alles andere wird gelöscht oder Ignoriert! Lasst auch eine Bewertung und Empfehlung da wenn euch der Mod gefällt, dauert wirklich nur 5 Sekunden ;)
Problembehandlung:
Wenn ihr Probleme mit der Mod habt, könnt ihr mir direkt eine Persönliche Nachricht schreiben mit eurer "Log.txt" Datei im Anhang und einer Ausfühlichen beschreibung eueres Fehlers! Ohne eure Log Datei kann ich euch nicht helfen und es wird um einiges länger dauern bis ihr den Mod im vollen umfang nutzen könnt!
Respect for Modder?
Da ich es nicht verhindern kann das der Mod auf anderen Seiten auftaucht, bitte ich euch aus Respekt vor der arbeit die ich mir gemacht habe, den Original Download Link zu verwenden!!!
RESPECT MODDER,
PLEASE USE THE ORIGINAL DOWNLOAD LINK, THANKS!
Credits
Modell: t0xic0m
Textur: t0xic0m
Script: mor2000
Idee / Konzept: t0xic0m
Tester: t0xic0m
Sonstige: t0xic0m

Do you think this mod should be featured?
Unterstütze den Entwickler!
Jetzt mit PayPal spenden
}