Push Object
V 1.1 mod for Farming Simulator 15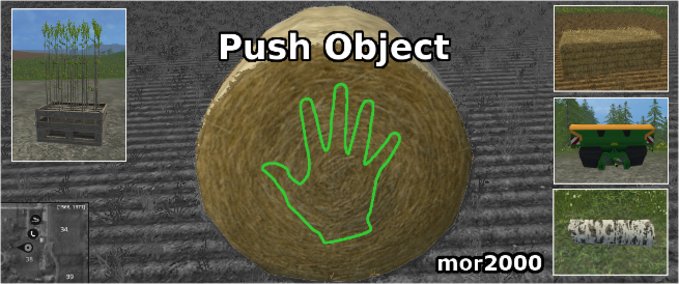 description
featured

With this mod you can give a nudge as Bauer / pedestrians in the game objects.

description

This is mainly used to move bales over short distances or to turn (round bales can be excellently roll), raise upset attachments or to clear tree trunks / branches out of the way. For larger items such as tractors or trucks in the Bauer is too weak.

How can one so push objects?

- You have to be on the road as a pedestrian
- You must not be selected handsets (like a chainsaw)
- You have to stand closer than 2 meters to the article
- The object must be in the center are
- With one click of the thrust is triggered
- Optional: it can be for the keyboard or gamepad for determining which also triggers the push a button ( "push PUSH OBJECT object" in the control settings Programming)

Is the mod multiplayer efficient?

Yes. Have fun betting round bale rolls!


Credits
Modell: (ohne)
Textur: (ohne)
Script: mor2000
Idee / Konzept: mor2000
Tester: mor2000
Sonstige: (ohne)
changes
18 Mar 12:38

Version 1.1

Neu in V1.1:
- Schubsstärke durch Dauer des Maus-/Tastendrucks bestimmbar
- grafische Anzeige für Bildmitte, gefundenes Objekt und Schubsstärke
- verbesserte Eingabe
- kräftigerer Schubs für Quaderballen
- optimierte Netzwerksynchronisation

13 Mar 15:08

Version 1.0

Do you think this mod should be featured?
Unterstütze den Entwickler!
Jetzt mit PayPal spenden
}