Savegame name Mod
V 1.0 mod for Farming Simulator 2011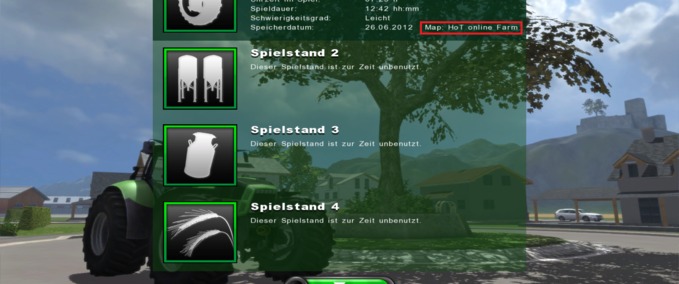 description
featured
Hi everyone.

Does it bother you that you can't see which savegame belongs to
which map if having multiple maps installed?  -  Well then i
have the solution for you:

The "Savegame-Name" Mod.

It reads the name of the map from the moddesc entry of the map
and on saving your game it appends it to the savedate (look at
screenshot). The next time you start the game you can see the
name in the savegame selection menu.

I hope this mod is helpfull for you. For me it definitely is.


greets

Killa Bot

PS: This tool is open source and may be freely copied and modified.

PPS: just put the zipfile in your mod folder. thats all for it to work

PPPS: even if the screenshot is from the german version it should
             be working with all languages
Credits
Idee & Umsetzung: KillaBot

Do you think this mod should be featured?
}