Smurf Country
V 1.0 mod for Farming Simulator 2013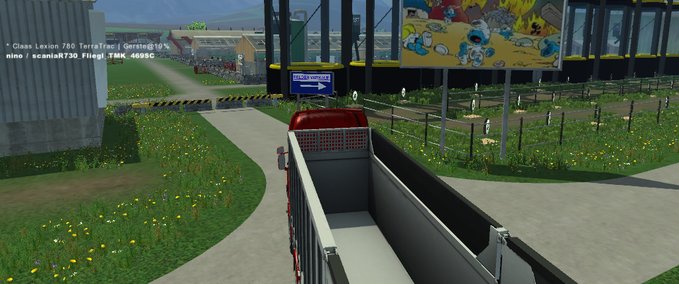 description
featured
So liebe Spieler.
Ich habe euch eine leicht hüglige 1fach Map gemacht.
Sie ist eine Multifruit Map mit 36 Früchten und 10 verschiedenen Tieren.
Die Map wurde mit Patch2.0DE_PublicBeta4 gemacht und G 5.03
Wichtig - Alles lesen sonst könnten probleme endstehen
Zur Map :- Eingebaut wurden Wasser Mod - Tränke Kühe-Schafe-Hühner-Ziege-Pferd-Hase-Strauss-Rind-Ochse-Schwein Mischstation Futerlager Wollecolector Gülleverkaufstation
Es gibt 12 verkaufstellen für die Produkte
Ihr besitzt 4 Wiesen
Alle Felder müßen gekauft werden wobei man zwei geliehen bekommen hat
Felderpreis steht im PDA
Es gibt Trafficverkehr und auch der Milchlaster fährt wobei Ihr aber die Milch auch selber verkaufen könnt ( siehe Marker)
Die PDA funktioniert und auch das Farzeuge-Zurückstellen geht sollte man aber erst benutzen wenn man den Hof gekauft hat
Ausgehen vom Hof gibt es Hinweisschilder wo was verkauft wird ausser das Schild ( Hof )auf den Straßen fürt euch immer nach Hause
Alle Früchte können auf dem Hof zwischengelagert werden
Sollten Fragen auftreten sollte man sich zuerst die Bilder anschauen dann sind viele Fragen Überflüssig (zb - Ich finde das nicht )
Zuletzt - Der Preis der Trauben-Apfel-Kaffee-Pflaumen-Birnen-Aprikosen-Kirschen ist sehr hoch da der Ertrag sehr Nidrig ist und sie viel arbeit bereiten denn es ist alles Handarbeit ohne helfer
Die Bäume für Trauben-Apfel-Kaffee-Pflaumen-Birnen-Aprikosen-Kirschen stehen schon da brauchen nur mehr angesäht werden steht ein schild vor dem Feld
Auch der Preis der Tiere beim verkauf scheint hoch - ist es aber nicht - man muß sich nur 3 nuller wegdenken bedäutet 400.000 = 400 € uws.
Baustoffe (Sand-Kies-Erde) mußen gekauft werden-Preis ist gleich 1drittel des verkauf Baustoffe können am Hof zwischengelagert werden und mit dem Förderband aufgeladen werden
Achtung beim kauf und verkauf der Baustoffe funkt das wie mit Früchten alle Stunde ein neuer Preis - nicht daß sie verlust machen
Apfel Kaffee Trauben usw. werden alle gleich behandelt -heist rubern-spritzen-ansähen-ernten
ACHTUNG Hof - Ställe müßen gekauft werden ansonsten kann man sie nicht betreten und die gekauften Tiere nicht füttern
Bedanken Möchte ich mich bei allen deren Obiekte ich verbaut habe
Achtung ;Um das die Map sicher und ohne Logfehler Läuft sollten zu beginn nur die 2 Zpi dateien und die empfohlenen Mods sein + die eigenen Farzeuge
Verboten sind Plazirbare Obiekte die etwas mit Früchten oder Mist zutun haben da meine Map die höchstgrenze der Früchte erreicht hat
Benötigt werden um die Map zu spielen:
PDA Fix 2.1 nicht das neue http://www.modhoster.de/mods/pdafix
FruitHudText http://www.modhoster.de/mods/fruithudtext
Modpack Fahrzeuge http://www.modhoster.de/mods/landwirtschaft_universal-pack
Mapdortriger http://www.modhoster.de/mods/mapdoortrigger--10
Großer dank geht an DDS-Modding - Ronny
Wolfgang
LS Zockerteam
Martin Big 500 dessen Mod ich benutzen darf für meine Maps
Sehen sie selber was man noch machen könnte.
Wünsche oder Vorschläge wie immer an mich Per PN - werde versuchen alle zu erfüllen wenn es geht.
MFG Walter
Es darf nur der Original Download Link benutzt werden !!!!!
Diese map darf ohne Erlaubnis nicht wo anders Hochgeladen oder verändert werden .
Es ist verboten sachen aus der Map zu nehmen und Sie als einzelteile irgendwo Hochzuladen
It may only be used the original download link!!
Credits
Martin Big 500
Ronny

Files
checksum:
ac1450e0eb95665e29fd62a0d1208d97
Version:
1.0
multiplayer ready?
yes
Author:
Convert to Placeable by Dangeon - Original by martinbigM500
price in shop:
-450000 LS
name in shop:
Concrete barriers
description in shop:
Drueken sie auf verkaufen und kaufen dadurch die Schafe.
Hirdurch wird ihnen der zutritt zum fuettern erlaubt.

Modell Schöpfer ist: martinbigM500
Umstellung auf Placeable mod wurde von Dangeon gemacht.
checksum:
ac1450e0eb95665e29fd62a0d1208d97
Version:
1.0
multiplayer ready?
yes
Author:
Marhu
price in shop:
53599 LS
name in shop:
Kuh Zuchtanlage
description in shop:
Mit einem Milchanhänger kann die Zuchtstation mit Milch versorgt werden, erst dann werden Kälber geboren, in abhängigkeit von der anzahl der Kühe und ihrer Poduktivität.
Ein Kalb braucht 6 Tage bevor es auf die Weide kommt und verbraucht dabei 240l Milch.
Um die Zeit zu halbieren kann zusätzlich loses Stroh angeliefert werden.

Do you think this mod should be featured?
}