Syringe
V 1 by Bluebaby210 mod for Farming Simulator 2011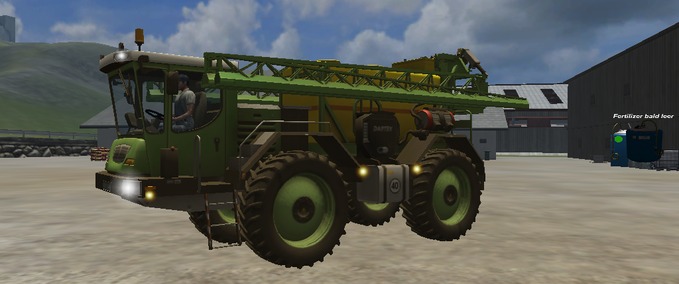 description
featured


präsentiert:
Spritze by Bluebaby210
mit Rückfahrcamera und Füllstandswarnung zuwie Zusatzkameras und Pflegebereifung, komplette Spritze über IC steuerbar.
Hi Leute, heute stelle ich euch "meine" spritze zur Verfügung. Es handelt sich dabei um die orginale Spritze made by Giants, die ich zusätzlich mit folgenden Features ausgestattet habe:


- BeleuchtungV3 by Sven777b
- washable by Manuel Leithner
- Zusätzliche Cameras by Manuel Leither
- Ic Steurung by Manuel Leithner
- wheelScaleTranslation by modelleicher and Bluebaby210
- rueckfahrcamera by Bluebaby210
- SprayCapacityWarning by Bluebaby210

Die Spritze diente eher nur als kleines Teil was washable gemacht werden sollte, dann wurden einige Skripte eingebaut und ich bekam Lust und interesse daran zu Skripten und habe dann ebend die oben genannten Skripte erweitert (WheelScale) bzw neue geschrieben, Rückfahrcamera und SprayCapacityWarning.

Die wheelScale sorgt für Pflegebereifung, dazu werden die Reifen zusätzlich etwas versetzt um keine Luft zwischen Felge und Radnarbe zu bekommen.

Die SprayCapacityWarning, wie der Name schon sagt, blendet euch ein kleines Bildchen ein, sobald ihr unter einen bestimmten Füllstand seit, zudem bekommt ihr einen Text dazu kurz eingeblendet und einen bzw mehrere Warntöne. Die Stufen der Wanrnungen können in der XML eingestellt werden, 1.Stufe ist die größte, die 4. die kleinste Warnstufe (auf den Füllstand gesehen).

Die Rückfahrcamera ist eine kleine Spezi für Indoor Fahrer, ihr könnt sie aktivieren und sobald ihr rückwärts fahrt seht ihr nur die Heckansicht, geht nur bei Indoor ansicht.

Die Spritze ist komplett IC gesteuert, Rundumleuchten, Licht,Fernlicht, Arbeitslichter, auf/zuklappen, an/ausschalten,Cams wechseln...





Ein besonderer Dank geht an:

-Das Team von SFM für die Freigabe der Control Panels und der Skripte für IC und Zusatzkameras.

-Modelleicher für sein TUT zum Skripten
-Bassadict für seine SpecialJoint LUA um die Kameras ans laufen zu bringen.


Die Skripte für Rückfahrcamera und die SprayCapacityWarning, sowie dei wheelScaleTranslation sind frei verwendbar und dürfen von euch in andere Mods eingebaut werden, eine kleine Nennung in den Credits ist wünschenswert. Einbauanleitungen stehen jeweils im Kopf des Skriptes.

Das Skript der Rückfahrcamera hat nix mit dem "dynamischenkurvenCamera" skript zu tun und ist etwas früher entstanden.
In verbindung mit einer der Allrounder Versionen ab V2  http://www.modhoster.de/mods/allrounder-oil lässt sich auch die 5.Kamera aktivieren, diese sitzt am Heck des Allrounders.
Credits
-Model: Giants
- BeleuchtungV3: Sven777b
- washable: Manuel Leithner
- Zusätzliche Cameras: Manuel Leither
-Contol Panel: SFM
- Ic Steurung: Manuel Leithner
- wheelScaleTranslation: modelleicher and Bluebaby210
- rueckfahrcamera: Bluebaby210
- SprayCapacityWarning: Bluebaby210
-specialJoint: bassadict
changes
06 Sep 16:14

Version 1 by Bluebaby210
Files
checksum:
4cb5c1b586c97cc0c4b787a18e8e8a25
Version:
1 by Bluebaby210
multiplayer ready?
no
Author:
Bluebaby210
price in shop:
115000 LS
name in shop:
Selbstfahrspritze
description in shop:
Washable and Beleuchtung: Bluebaby210 www.mod-portal.forumo.de
Skript: SprayCapacityWarning by Bluebaby210
Skript: WheelScaleTranslation by Bluebaby210

Do you think this mod should be featured?
}