STEYR 6140 CVT 2G
V 2 STEYR CVT S-Matic mod for Farming Simulator 17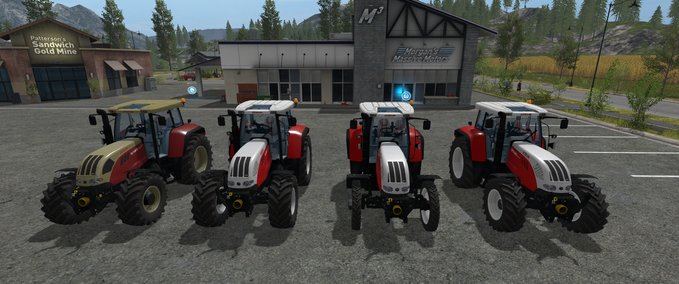 description
featured
Hello, today we present our conversion in cooperation with Jocker Modding, the Steyr CVT 6140 of the 2nd generation.
The Case CVX 175 from BJR Modding serves as a basic model. This model was made by Jocker Modding as Case CVX 160 LS17 ready and the lower roof light front removed. We have rebuilt this case to a 2nd generation Steyr CVT 6140.
The bonnet is of CebuljCek Modding (Steyr CVT 6160).
We know that many modders will convert the popular models (Case CVX 175, NH T7550, NH TM150, JD 6R, ...) from BJR Modding, so we make a distinction and provide you with an older STEYR CVT.
To all who have a problem with it, do not just download this mod.
NFO:
Construction period: 2007- 2012
Engine: Engine hours: »see full ad Sisu WD 620.64 (141 PS)
Transmission: CVT (stepless)
Tank capacity: 310l
BJ: 2011
Weight: 6770 kg
Features:
from the outside:
Removing / removing front fender
Open / close left button R
Shop Configurations:
Front loader attachment:
Yes or no
Engine Version:
Standard engine: WD 620.64 (141 hp)
Version with PowerPlus (163 hp)
Chiptuning (185 PS)
Wheel Setup:
Standard tires: front: 540/65 / R30 rear: 650/65 / R42
Other functions:
IC control:
Rear windows, side windows, roof windows and doors to open / close
Animated / Illuminated:
Tacho, tank and temperature display
Indicators / warning lights
License plate lighting
Charge indicator light integrated (battery lit jz at engine start)
 Others:
washable
Working light front Button NUM 5
Working light rear button NUM 6
Behrahrerskript installed
Dynamic trousers ready
Low beam + high beam slightly yellow-orangel
Required / Recommended Mods:
Drive Control:
Https://www.modhoster.de/mods/drivecontrol--2
Front loader:
Https://www.modhoster.de/mods/frontlader-fur-grosse-traktoren
Gearbox Add On:
Http://www.farming-simulator.com/mod.php?lang=en&country=de&mod_id=65562&title=fs2017
We wish you much fun and joy with this mod. :)
MfG
STEYR Modding Team
(Unknown000, steyrmodder, domi, john)
Credits
Modell:  Urmodell Traktor Case CVX 175: BJR Modding; LS17 ready by Jocker Modding;  Motorhaube: CebuljCek Modding; Umbau auf Steyr CVT 6140 by STEYR Modding Team, Siloking + Grimme Terminal (forbidden-mods//Bremi456)
Textur: BJR Modding, CebuljCek Modding, STEYR Modding Team, Siloking + Grimme Terminal (forbidden-mods/Bremi456)
Script: Alex2009, BM Modding, Manuel Leitner (SFM-Modding), Modelleicher, fruktor, Giants Software
Idee / Konzept: STEYR Modding Team
Tester: STEYR Modding Team
Sonstige: 
changes
29 Jul 07:54

Version 2 STEYR CVT S-Matic

- Pflegereigung hinzugefügt (CVT 6140)
- Siloking Terminal (von FBM) verbaut (CVT 6140)
- Grimme Terminal (von FBM) verbaut (CVT 6140)
- CVT 6195 hinzugefügt
- CVT 6195 Gold (60 Jahre Steyr Traktoren (1947-2007))
- Lichter gewechselt/erneuert
- 4 Hydraulikanschlüsse bei der FH verbaut (Dynamic Hose ready)
- Unterlenker hinten überarbeitet

12 Apr 20:20

Version 1.1

- Eigengewicht etwas reduziert/angepasst
- Stufenlose Gearbox AddOn Einträge hinzugefügt
- Kennzeichen geändert

29 Mar 12:05

Version 1

Do you think this mod should be featured?
}