STEYR 8070a SK2
V Steyr 8070a SK2 fix mod for Farming Simulator 17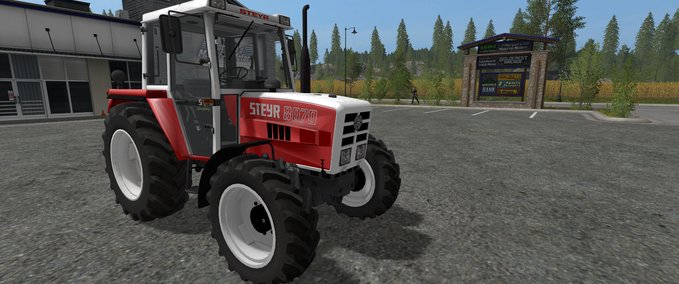 description
Hallo, heute stellen wir euch ein kleines ungeplantes aber schnelles Zwischen/Motivations Projekt fürs Plus 760ger Modell.
Eins vorweg, es wird nicht mehr so viele Versionen/Modelle wie zu LS13/15 Zeiten geben, sondern nur mehr die wichtigeren Modelle, aus Privat gründen, wir haben einfach nich mehr so viel Zeit bzw Nerven übrieg.
Der 8070a SK2 kann gut auf kleineren Map bzw Alpinen Maps eingesetzt werden, als Grünland und Hofschlepper.
ACHTUNG: Dieser Beitrag wird erweitert/aktualisiert.

INFO:
Bauzeit: 1979- 1994

Motor: Steyr WD 411.44  (58 PS bis BJ 1984, ab 1984 -> 64 PS)

Getreibe: Synchronisiertes Steyr Gruppenschaltgetreibe mit 16v und 8r Gängen

Tankinhalt: 60l

BJ: 1987

Eigengewicht: 3000 kg

Typenschild angebracht

Sound is von mehreren Steyr 8070 Videos zusammengeschnitten


Zwillingsbereifung/Schneeketten is als kaufbare Variante geplant wie zu LS15 zeiten, des wird dann irgentwann mal in einem Update kommen.

Die Schneeketten passen nicht mehr so gut zum Reifenprofil. Die müssten mal überarbeitet werden. Die Zwillingsräder haben keine Reifenspuren und stammen sowie die Schneeketten aus LS13?/LS15 von CebuljCek Modding. Die Zwillingsreifen + Schneeketten haben wir mal als "Notlösung" so eingebaut, da wir

an mehreren Projekten gleichzeitig arbeiten.

 

Wir bitten um Verständniss.
Funktionen:von außen:

Kotflügel vorne                       an/abbauen        Taste R

Türen                                    an/abbauen         Taste R

linke Türe                              öffnen/schließen   Taste R

Schneeketten (vorne/hinten)   an/abbauen         Taste R

Zwillingsreifen (nur hinten)     an/abbauen          Taste R
Shop-Konfigurationen:
Anhängekupplungen:

Standart: (nur atacher Joint; gedacht für kaufbare Frontgewichte bzw Geschirrkübel)

Zugmaul vorne: (atacher Joint verbaut; zum rangieren von Anhängern)

Fronthydraulik + Frontzapfwelle
Frontladeranbau:

Motorausführung:
Standart Motor: WD 411.44  (64 PS)

Optional: stärkere Einspritzpumpe  (+8 PS)
Rad-Setup:
Standartbereifung: vorne: 320/70/R24    hinten: 420/85/R30 


Breitreifen:            vorne: 400/70/R20    hinten: 480/70/R30

Pflegebereifung:     vorne: 230/95/R34    hinten: 230/95/R44
Design:
RUL (Rundumleuchte): gedacht für die "normale"/rot-weiße Version

Sonstige Funktionen:
IC-Steuerung:
Front-,Heck-,Seitenscheiben, Dachluke und Türen (inklusiv Türschließsound) zum öffnen/schließen

FH-Unterlenker, Beifahrer Fußablage und Sonnenblende ein/ausklappbar

Scheibenwischer, Kabinenlicht
Animiert/Beleuchtet:
Tacho-,Tank- und Temperaturanzeige


Blinker/Warnblinkeranzeigen (inklusive Blinkersound (von einem Steyr 8130a SK2))

Blinker/Warnblinkeranzeige funktioniert jz wie in echt:

Traktor alleine = 1 Läpchen blinkt

Traktor + 1 Anhänger = 2 Lämpchen blinken

Traktor + 2 Anhänger = 3 Lämpchen blinken

Kennzeichenbeleuchtung

Ladekontrollleuchte integriert (Batterie leuchtet jz beim Motorstart)

"provisorisch" animierte Pedale; Gaspedal, Bremspedal + Kupplung:

WICHTIG!

Drive Controll verwenden mit aktiver Wendeschaltung (grüner Pfeil muss sichtbar sein -> Richtungswechsel) sonst passt die Pedal-Animation nicht. (Traktor auswählen)

bei ausgewählten Traktor ohne angehängte Anhänger/Geräte: animierte Heckhydraulik + Hebel (rechts im Traktor)

TASTE V

,
animierter Hebel für die Zapfwellenkupplung (links im Traktor)

TASTE B

, des is eine kleine spielerei damit sich etwas bewegt in der Kabine, das ist reine Optik, damit sich die Hebel bei angehängten Geräten mitbewegen braucht man ein passendes Skript, vermuten wir mal. :) Bei angehängten Anhängern kann man die HH (Heckhydraulik) heben (Traktor muss ausgewählt sein) und der Hebel bewegt sich.

Den Hebel für die ZWK (Zapfwellenkupplung) kann man jederzeit ein/ausschalten (Traktor muss ausgewählt sein), es hat halt keine funktion, es is rein Optisch.
Sonstiges:
waschbar

Indoorsound (reagiert auf geöffnete Scheiben bzw Türen)

Arbeitslicht vorne Taste NUM 5

Arbeitslicht hinten Taste NUM 6

Pendelachse

Beifahrerskript verbaut

Abblendlicht + Fernlicht etwas gelblich wie auch in real life

LED Arbeisscheinis hinten: für eine bessere/hellere Ausleuchtung
Benötigte/Empfohlene Mods:
Front-Equipment-Pack:
https://www.modhoster.de/mods/steyr-front-equipment-pack
Drive Control:
https://www.modhoster.de/mods/drivecontrol--2
Frontlader:
Ein großer Dank geht an Max (MB 3D-Modellierung) weil er uns immer sein Steyr 8080a SK1 Modell umbauen lässt und uns die Releasefreigabe (= sein Original DL-Link) erteilt. (Das wurde zu LS13-Zeiten von uns (STEYR Modding) so eingeführt und mit ihm (MB3D Modelling) abgemacht.)Vielen Dank an alle User die regelmäißig in Facebook: STEYR Modding Team an unseren Umfragen teilnehmen.
Werbung:
STEYR Modding Team in FB:
https://www.facebook.com/STEYR-Modding-Team-1209290125752268/?ref=bookmarks
MB3D Modelling in FB:
https://www.facebook.com/Mb3dModelling/?fref=ts
Ein Kumpel bzw supporter von uns:
https://www.facebook.com/Steyr8100chrisi-630041667178077/
Beim upload auf anderen Seiten bitte den original DL-Link verwenden und Credits eintrag nicht vergessen.
When uploading on other sites, please use the original DL link and do not forget to enter credits.
Wir wünschen euch viel spass und freude mit dieser Mod. :)
MfG
STEYR Modding Team
(unknown000, steyrmodder, Domi, John)
Credits
Modell: Urmodell: MB3D Modelling, Umbau/LS17 ready: STEYR Modding Team, rs123456
Textur: STEYR Modding Team
Script: Giants Software, Fruktor, Rival (RivalBomb), Manuel Leitner, PeterJ - euroDZN, Sven777b, Modelleicher, Alex2009
Idee / Konzept: STEYR Modding Team
Tester: STEYR Modding Team/Steyr8100Chrissi
Sonstige: Sounds: Youtube/ STEYR Modding Team
Pflegereifen (Felgen): CebuljCek Modding
Schneektten: CebuljCek Modding
Zwillingsreifen: CebuljCek Modding
changes
16 Jan 14:58

Version Steyr 8070a SK2 fix

Helferproblem gefixt

09 Jan 19:18

Version 1.0

Do you think this mod should be featured?
}