Strautmann Giga Vitesse Duo IV
V 1.0 mod for Farming Simulator 2011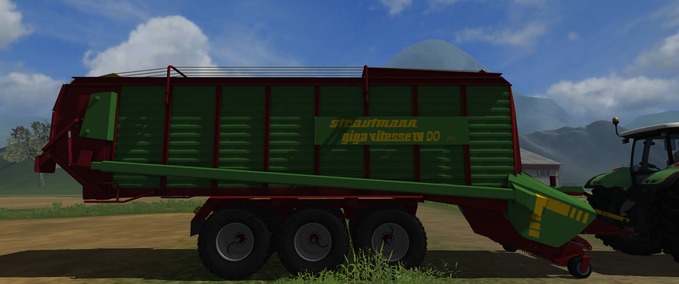 description
featured
Informationen:
LS-Preis: 42230€
Polycount: ~ 80.000
.zip größe: 12,47 MB

Funktionen:
Beleuchtung V3.1
Kratzboden
mitlenkende Achsen
verstellbare Deichsel
59.000 Liter Ladevolumen


specializations:
attachable
fillable
zylindered
animated Vehicle
loading Trailer
Trailer
towBale
powerShaft
pickup
drawbar
Strautmann Giga Vitesse IV
beleuchtung31
interactive control Panel
Rechte:
Das Mod(-Paket) darf auch auf anderen Seiten zum DL angeboten werden, aber nur unter Verwendung des DL-LINK für alle anderen Seiten!
Das Mod(-Paket) darf ohne Zustimmung des Ur-Modders (zufinden auf eifok-team.de) nicht verändert und neu hochgeladen werden!

This Mod(-Pack) can be released on other Websites, but only by using the DL-LINK for other sites!
It is not allowed to edit this Mod(-Pack) and reupload it without the permission of the Modders. You can find the Modder at eifok-team.de.
Cette Mod(-Pack) peut libérer à vos Homepages mais seulement avec utiliser l'original lien de cette Mod!
Hinweis: Das Modell wurde ursprünglich für LS 09 erstellt. Auf vielfachen Wunsch wurde das Modell aus der Schublade geholt und für LS11 realisiert.
Support : http://www.eifok-team.de/forum/index.php?page=Thread&postID=26178#post26178
Credits
Credits:www.eifok-team.de
Modell: Daniel11
Textur: Daniel11
Ingame: D4rkfr34k
Script:fruktor
Files
checksum:
84ffe184b635285743f42946f1179003
Version:
1.0
multiplayer ready?
no
Author:
www.eifok-team.de
price in shop:
42230 LS
name in shop:
Strautmann Giga-Vitesse IV DO plus
description in shop:
Modell/Textur: Daniel11 -|- Ingame: D4rkfr34k -|- Script: fruktor/Face/Sven777b
visit: www.eifok-team.de
Wheels: SFM

Do you think this mod should be featured?