0 Downloads today
3,224 Downloads total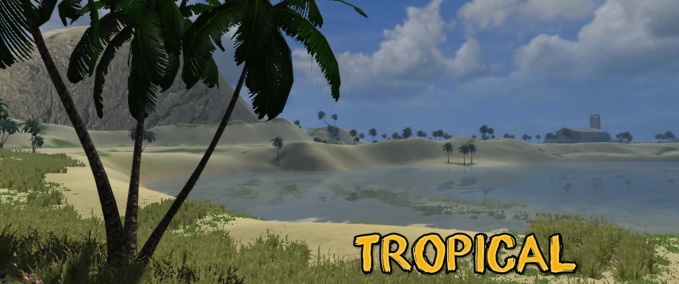 Tropical Farm v 1.0
Our 2nd child has seen the light of day.

The Field-Star Modding Team presents:

Tropical Farm

Things to do:

- 15 different-sized fields

- Almost brand new, self-made terrain textures with textures Distance

- Many unique Mapobjekte (palms u.s.w)

- New crops: coffee, aloe vera (<- self-created and published it before!)

- DLC2 BGA

- New roads (including road damage) with traffic and pedestrians

- Own PDA map with field numbers and symbols

- Reduced by 50% milk and slurry / manure production (adapted to the climatic conditions)

 

Included in the pack are:

medium Trucks

- Lighting v3.1
- chock
- Washable
- Volume of 25000 liters
- Ready for new crops of coffee and aloe
- Steer spear script

 

Lizard 58 including cutting

- New Skin
- ESLimiter v2.2
- Hecktarzähler
- Operating hours counter
- Switchable straw chopper
- Speed ??increased
- Automatic adjustment of the cutting plant floor for uneven terrain
- Cutting by about 50% wider

The pack comes with all required mods and even a sound file, which can be copied into your game directory needs. Quick Reference Guide is included!

Überings, we know that's not realistic harvester thresher for the new fruit! Everyone is free to build a suitable device for this :)

 

Have fun with the map!

The Fieldstar modding team.

 

It is NOT allowed on our objects, even in modified form, to be fitted to other maps or individually to download.

This Gildet not already published on ModHoster objects.

It is also not allowed to change the map and then re-downloaded to provide!

Furthermore, should the map and all of its own mods are not offered under a new download link!

That the map link to other sites are allowed to receive if the original link remains!