TSL_MMXII_IV_Anno_
V 2 (BGA Version) mod for Farming Simulator 2011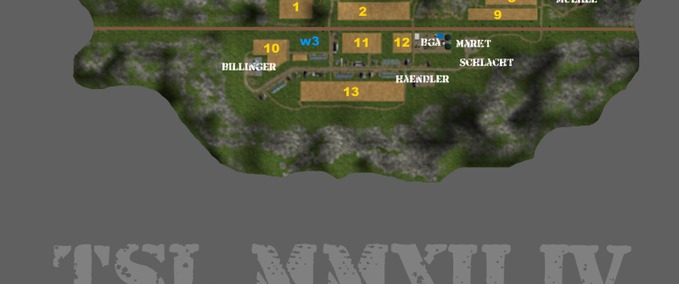 description
Hallo
Das ist die TSL_MMXII_IV_Anno_v2 Map mit BGA made by TSL.
Da es ja seit den 30er Jahren ja schon BGA`s gab, hab ich mich entschlossen, doch eine BGA zu verbauen.
Es wurden noch zwei Felder zusammen gelegt und die Züge sind langsamer. Damit besteht mehr Abstand zwischen den Zügen.
Willkommen im Leben als Landwirt.
Du hast einen kleinen Hof geerbt. Ein paar alte Maschinen wurden dir auch hinterlassen.
Doch sind die Maschinen und Geräte nicht gerade die Besten.
Auch die Felder wurden laenger nicht bewirtschaftet und kein einziges ist im guten Zustand.
Es liegt nun an Dir, den Hof zu bewirtschaften, deine Felder zu bestellen und die Kuehe zu fuettern...
Die Map ist für kleiner Maschinen gedacht...
Fruits: Standard, Kartoffeln, Zuckerrueben, Sonnenblumen
Zusatz: Holz, Milch, Brot, Rind (KEINE Produktionsketten)
Verbaut wurde unter anderem:
*Stall zum füttern der Kuehe mit Gras
*Schlachterei die Rind kauft
*Muehle verkauft Brot
*Rind verkauf am Stall auf dem Hof
*der Hof kauft Holz ( hinter dem Startpunkt)
*Billinger kauft fast alles und verkauft Holz
*Flugverkehr
*Zugstrecke
*...und weitere Kleinigkeiten...
*****************************************************************************
NEU in der v2:
*BGA
*BGASilo Fruits: chaff grass manure wheat barley potato sugarbeet
*BGASilo Capa: 1.800.000
*BGA Bunker Capa: 50.000
*Billinger kauft Mist und Guelle
*Züge fahren langsamer (für mehr Abstand zwischen den Zügen)
*Zwei Felder zusammen gelegt
!...KEIN DLC notwendig...!
!...Spielstände aus der v1 können NICHT übernommen werden...!
*****************************************************************************
Es gibt KEINEN Verkehr auf dieser Map, weil Bentley und Co nicht wirklich dazu passen.
Die Milch kann man selber am Billinger verkaufen, aber sie wird auch täglich 24uhr geleert und man bekommt Geld.
Das Beladen von zu kleinen Anhänger am großen Silo ist nicht möglich !...eine Nummer größer und es geht !
passender Trailer:
http://tsl-landtechnik.forumprofi.de/anhaenger-f10/kleiner-anhaenger-t401.html
Empfohlener FunktionsMod auf Grund der Bauweise:
http://www.modhoster.de/mods/nocollisioncamera
BENÖTIGT WERDEN FOLGENDE ZIP DATEI IM MODORDNER (falls nicht schon Vorhanden) UND MIN. PATCH2.1:
MapFruitTrigger: http://planet-ls.de/board/index.php?page=Thread&threadID=8922  ...WICHTIG: großes "M"
MapBGA: http://planet-ls.de/board/index.php?page=Thread&threadID=7761
MapBGASilo: http://planet-ls.de/board/index.php?page=Thread&threadID=7762
...Map I3D ca. 32.8mb... daher wohl auch für schwache Rechner geeignet.
Log ist Sauber...
Viel Spass damit...TheSecretLife by http://www.TSL-Landtechnik.forumprofi.de 
Es ist untersagt diese Map oder Teile davon, neu hochzuladen, auch nicht in veränderter Form!
Bitte nutzt den originalen download-Link!
- It is forbidden to upload this mod again, even in an altered form! 
Please use the original download link!
- Draudžiama /kelti š/ mod vl, net pakitusiu pavidalu! 
Prašome naudoti originalus parsisiuntimo nuorod!
- Zabrania si wgra ten mod jeszcze, nawet w zmienionej formie! 
Prosz u|ywa oryginalnego link do pobrania!
- Je zakázáno vkládat tento mod znovu, a to i ve zmnné form! Prosím použijte povodní odkaz ke stažení!
!!! support nur auf http://www.TSL-Landtechnik.forumprofi.de !!!
Credits
*balogh2003

*motek

*Acert

*LS-Landtechnik

*TSL

...und NATUERLICH geht der Dank alle die ich vergessen habe
changes
16 Jun 19:09

Version 2 (BGA Version)
Files
| | |
| --- | --- |
| checksum: | 84a2de821e8a16944d6a97531f1e94a9 |
| Version: | 2 (BGA Version) |
| multiplayer ready? | no |
| Author: | TSL |
| price in shop: | LS |
| name in shop: | TSL_MMXII_IV_Anno_v2 |
| description in shop: | Edit by The Secret Life |

Do you think this mod should be featured?
}