Unit Switcher
V 2.01 mod for Farming Simulator 2011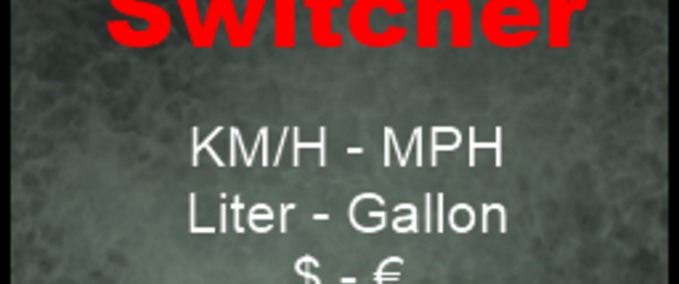 description
What can this mod be used for?
-----------------------------
To switch between;
- km/h and mph                  (with proper conversion to mph)
- litre, gallon and gallon(us)  (with proper conversion to gallons)
- $, € and GBP                  (no conversion, as exchange-rates are not known ;-)


How to use it?
-------------
Place the a0_Units.zip file in your mods-folder.

Once Farming Simulator 2011 is started, go into Options->Controls, and verify if you want to change the keyboard-bindings from the default;
- Change speed-unit (Key ALT)         B
- Change currency-unit (Key ALT)      N
- Change fuel-unit (Key ALT)          M

Do please note that once in the game you need to hold the ALT-key down, before pressing the keys. Also note, that the helpbox will first display the keys when the ALT-key is actually pressed, so you do not end up with a huge helpbox.

ALT + B switches between speed-units;    km/h, mph
ALT + N switches between currency-units; $, €, GBP
ALT + M switches between fuel-units;     liter, gallon, gallon(US)

A text will appear for a few seconds at the bottom of the screen, telling which unit that have been changed to.

You need to save your game-session, for the chosen units to be remembered.
Credits
Credits

V2 by Decker_MMIV

Original UnitSwitcher by Knuuud & Daveaich of FMC

(Approved by Knuuud)
(Approved by Knuuud)
changes
13 Sep 00:35

Version 2.01
Empfehlungsrate
-/-
noch nicht genug Stimmen
Do you think this mod should be featured?
}