Universal 1Achs Kipper Pack
V 2.1 mod for Farming Simulator 17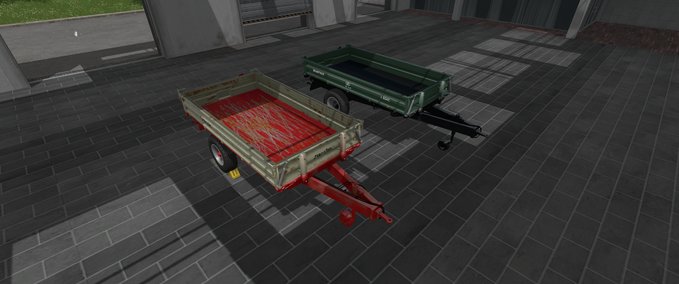 description
featured
Hello, Today is the, the 1 Achs Kipper Pack in V1 is times ready so far.
Some are the Mengele trailers from LS15 times know yet, and in the LS17 version giebts several designs (textures but almost the same functions as to LS15 times. In the tipper is the standard Brantner Tipper model ausm LS15, the time from us was rebuilt for a better field of application. The dump truck is designed specifically for small businesses, or for smaller maps with narrow roads / streets.
In the future, possibly coming still one or the other design to more and different constructions.
WARNING: This post will be expanded / updated.
INFO:
4 bodies

several styles / brands (2x Mengele, 2x Pühringer, 2x Brantner, 1x Maraton, 1x Fuhrmann)

versatile

Tensioning straps (for securing bales eg)

Lower lift series with Collision (incurred for the transport of small pieces of wood / wood residues felling a tree via chainsaw)

Tipper backwards tiltable via mouse control (for unload the pieces of wood / wood waste)

Board walls can be opened from the outside

(R

or

BUTTON

O)

Open Included / close sound

Wheel set (1x gray wheels with red hub, 1x gray rim with black hub (thought fürn Brantner HB Euro-Line tipper)
Thanks go to Rival Modding (Rival Bomb) we may use the tailgate closing sound script again :)
We wish you a lot of fun :) so
MfG
STEYR Modding TEAM
(unknown000, steyr modder, Domi, John)
Credits
Modell: Giants Software/  Umbau: STEYR Modding Team
Textur: Giants Software/STEYR Modding Team
Script:Rival Modding (RivalBomb), Koper, 50keda, Ziuta, wopster, BM Modding
Idee / Konzept: STEYR Modding Team
Tester: STEYR Modding Team
Sonstige: Sounds; STEYR Modding Team, Kabel + Hydraulikanschlüsse: Joe968
changes
13 May 23:27

Version 2.1

- Used look der Ladefläche überarbeitet

14 Jul 14:06

Version 2

- Räder größer skaliert
- Used Look hinzugefügt (erster versuch)

07 Mar 13:33

Version Universal 1 Achs Kipper V1.5

- Fuhrmann Haflinger Texur hinzugefügt
- Aufbauten überarbeitet
- Beschriftung beim Mengele Kipper (rot/beige) gefixt
- Dynamic Hose ready (by Joe968)

08 Feb 13:29

Version 1
Files

Do you think this mod should be featured?
}