VehicleFruit Hud
V 0.45 Beta mod for Farming Simulator 19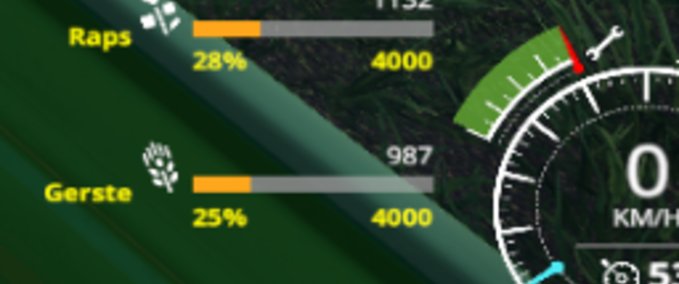 description
featured
This mod extends the LS19 own VehicleFruit Hud with the following additional information.
Fill / Fruit Name, Fill Percent, Capacity

And on user request the VehicleScheam which is above in LS19 above the control, this one can put on 3x positions (1-3) and ideally also zooming.
For screen matching there is a schemaFixY value because you can use.
Everything depends on your IngameHud scaling.
XML Settings File for Mod:
.../LS19/modsSettings/VehicleFruitHud/vehicleFruitHudSettings.xml <-------
Description: Hier Klick
ColorCodes: (Hier Klick) Value RGB

For Green so 0,255,0 ---> R=0/255, G=255/255, B=0/255 is

colorR=0.000000, colorG=1.000000, colorB=0.00000, colorA=1.000000
XML Settings File edit
ColorCode Description: Hier Klick
No more and no less
And if you do not like it should not load it :-)
1.Publication only with original download link. NO replacement link
2. Altering and re-uploading is not permitted
Credits
Modell: HappyLooser
Textur: HappyLooser
Script: HappyLooser
Idee / Konzept: HappyLooser
Tester: HappyLooser
Sonstige: HappyLooser
changes
04 Dec 19:29

Version 0.45 Beta

*Fix Comaptible with VehicleInspector Mod
*New optional slide Effect POS X Fix over XML

29 Nov 17:24

Version 0.4 Beta

-Fix schemaPos
-Fix AutoSize for LongName
-New Pos 1-5 see HelpImage
-New XML value "namePosAutoSize" (can mod fix longName is optional)
-New XML value "txtBold"

28 Nov 17:28

Version 0.3 Beta

-XML Settings File (vehicleFruitHudSettings.xml)
-FruitName Text Color optional
-FruitName Pos optional
-FruitName On/Off optional
-FruitCapacity On/Off optional
-FruitProzent On/Off optional
-VehicleSchema Pos optional
-VehicleSchema Zoom optional
-VehicleSchema Fix Y optional

27 Nov 18:59

Version 0.2 Beta

Do you think this mod should be featured?
Unterstütze den Entwickler!
Jetzt mit PayPal spenden
}