Vogel and Noot Terra Top 800
V 2.1 byBullgore mod for Farming Simulator 2013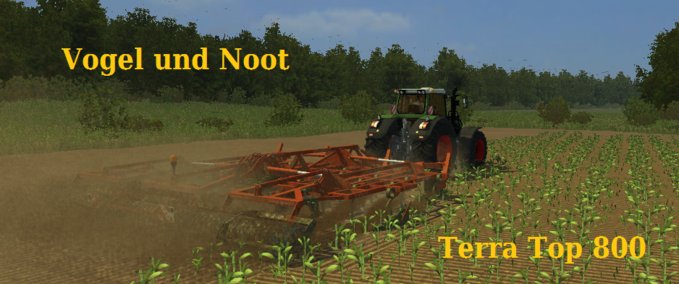 description
featured
've Even caught the TerraTop 800 and a bit rumgeschraubt it. The cultivator is now also washable in addition to his Particlesystemen. In addition I have missed the machine more weight when lowered, thus creating the STX600 30kmh with a flat surface and a slope and begins the tug to its knees;)

Testing times if everything runs so far.

Specifications:

Zip Size: 6.2 MB

VRam: 8.78 MB

Poly: ~ 56000

Working width: 7.8 meters

Number of tines: 33

Weight: ~ 11 tons

V2.1 features:

- Washable

- Particlesystem floor / tines

- Lighting

info

Due to its high impact strength of TerraTop sets is the ideal tool for the professional farmer and large enterprise, the emphasis on high area coverage and superior quality of work. The semi-mounted works clogging, even with large amounts of straw. The standard C-coil tines offer the very best self-cleaning and built-in stone protection for universal use in many soils. Through the combination of power and perfect mixing of crop residues, the TerraTop particularly suitable for conservation tillage.

The once stable built TerraTop S covers the widths 6.0, 7.0 and 8.0 m for the large crawler tractors up to 600 hp and has a three-piece folding for low transport height.
Credits
Umbau V2: Ifko[nator]
Umbau V2.1: Waschbar,tuning: Bullgore
changes
20 Apr 02:47

Version 2.1 byBullgore
Files
checksum:
0e0397471cd55377f097b5ce08377513
Version:
2.1 byBullgore
multiplayer ready?
no
Author:
Ifkonator and Bullgore
price in shop:
57000 LS
name in shop:
Terra Top 800
description in shop:
Dies ist der originale Terra Top 800 Grubber der von mir verbessert wurde.
NEU:
Particlesystem beim Grubbern, Blinker, Reifenstaub auf dem Feld und Feldwegen, und neue Reifen.

Credits:
Original: GIANTS Software GmbH
Umbau V2: Ifko[nator]
Umbau V2

Do you think this mod should be featured?
}