Vogelsberg
V 1.1.2 mod for Farming Simulator 19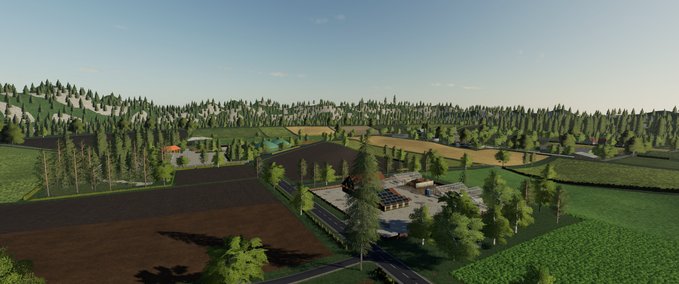 description
Welcome to the Vogelsberg Map!
On this map 32 fields await you, with sizes between 0.2 and 3 hectares.
There are various sales outlets such as a BGA, a country trade and a garden center
About the map:
The map was originally built for the Mod contest 2009, but has been completely rebuilt for the LS13.
There have only been minor changes to the layout since the LS13.
I have not built this map! I have just converted the LS17 version. 
The map was originally built by Desperados93 and Fendtfan1!
The map is not 100% finished, bugs and errors might happen!
The map is not seasons ready.
Credits
Map built by: Desperados93, Fendtfan1
LS17 version converted by: zJanny

changes
26 May 18:24

Version 1.1.2

Drescher können jetzt Stroh ablegen.

26 May 17:56

Version 1.1.1

Texturfehler bei manchen Steinen behoben
Texturfehler bei manchen Büschen behoben
Raps kann nun angebaut werden
Hafer kann nun angebaut werden
Shaderfehler beim Hofsilo behoben
Logfehler behoben

To do:
Drescher können kein Stroh ablegen (Hilfe bei diesem Problem ist sehr erwünscht, da ich noch immer nicht die Ursache des Problems rausfinden konnte)

23 May 12:00

Version 1.1

Fehler bei der BGA behoben
Fehlerhaftes Gebäude am Hof ersetzt
Tierställe am Hof sind jetzt funktionstüchtig
Fahrzeug Verkaufstelle beim Händler hinzugefügt
Holz Verkaufstelle am Sägewerk hinzugefügt
Kleinere Fehler am Hof behoben
Lichtschalter und Türen bei einigen Gebäuden am Hof sind jetzt funktionstüchig

Ein neues savegame wird benötigt, damit die neuen Objekte auf der Map erscheinen!

21 May 14:52

Version 1.0
Files
Empfehlungsrate
-/-
noch nicht genug Stimmen
Do you think this mod should be featured?
}