VR1224
V 1.0 mod for Farming Simulator 2013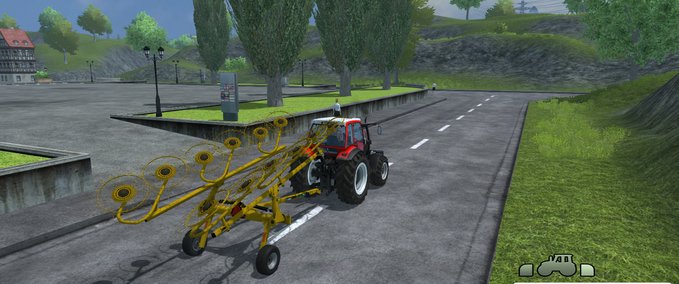 description
VERMEER VR1224 wheel rake
The rake wheel tow truck VR1224 gives you the ability, strength and balance and stable posture you need for a heavy regimen of hay, starting with the first cut. This robust and reliable rake swiftly moves through the field to expedite the work on the field. The VR1224 can be easily adjusted for single or double raked.
Raking Width - Maximum     24.4 '      7.4 m
Row width - Maximum           98 '        2.48 m
Transport width                    10.2 '      3.1 m
Transport length                   23 '        7 m
Speed - Maximum                14 mph   22.5 km / h
Credits
modder : xyzspain
textur: xyzspain
scripts: xyzspain
ingame: xyzspain
images
Files
checksum:
8b88a494491b1e926de421954ba079d4
Version:
1.0
multiplayer ready?
yes
Author:
xyzspain
price in shop:
15000 LS
name in shop:
VR1224
description in shop:
Wheel Rake
MODELL VR1224
COMPANY Vermeer
COUNTRY USA xyzspain2014

Empfehlungsrate
-/-
noch nicht genug Stimmen
Do you think this mod should be featured?
}