VW T5 ELW 1
V 3.1.4 mod for Farming Simulator 2013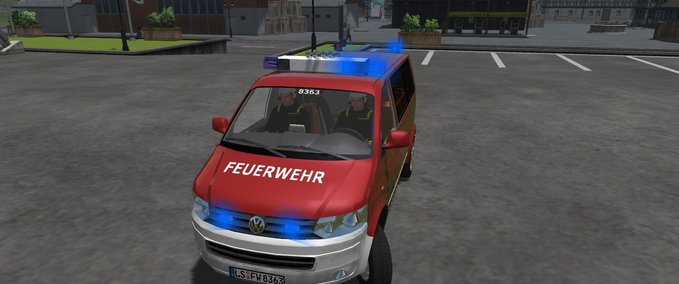 description
Hello,

I have long wondered if I should ask you the MCU 2 on VW T5 available. I have decided. Thus, after a long time again a mod from me.

To the vehicle:
Type: Einsatzleitwagen 2
Chassis: Volkswagen T5 facelift
Year built: 2014
Removal: Topfire fire and rescue service vehicle GmbH
Radio call: Florian Neustadt 83-63
Features: LS-FW8363

Special signaling systems are: floor joists Hänsch DBS 3000 LED with integrated sosi type 620 (country only circuit), a blue and a red Hänsch Nova LED, Hänsch Sputnik nano front flashers and compressed air horn of Max B. Martin Type 2297 GM

The mod may not be offered on other sites for download.
The mod may not be re-uploaded.
The mod can not be uploaded in converted form.
Parts of the mod may not be published elsewhere without my permission.
Please use the original download link!
Credits
Modell: edit J112J
LS-ready: J112J
Scripte: Sven777b, Grisu118, Templaer (edit J112J)
Anbauteile: J112J, Blaulichtmodding
Ingame: J112J
Skin Feuerwehrmänner: FW_Freak
changes
12 Jun 18:51

Version 3.1.4
Files

Do you think this mod should be featured?
Unterstütze den Entwickler!
Jetzt mit PayPal spenden
}