Torrent valley
V 2.4 Extreme Edition mod for Farming Simulator 2013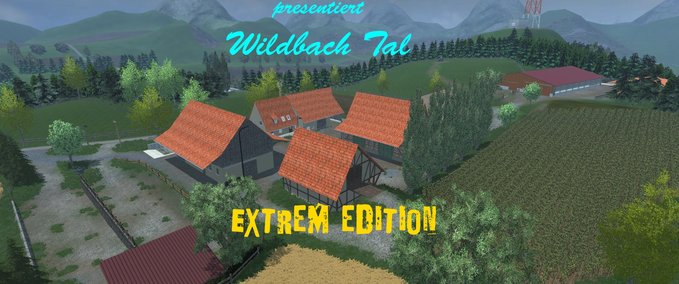 description
featured

 
Präsentiert
 
Wildbach Tal v 2.4 Extrem Edition
Willkommen zurück im Wildbach Tal !!
 
Ihr übernehmt hier einen Aussiedler Hof im Wildbach Tal. Mit seinen 26.5 Hektar Ackerland und 10 Hektar Weiden ist dieser Hof wie geschaffen für Singleplayer oder zu zweit im Multiplayer. Hier kann man seine Old und Jungtimer ausfahren und Landwirtschaft so realistisch und gemütlich spielen, wie Sie Anfang der 80er jahre war. Das Wildbach Tal liegt in einer Landschaft im Schwarzwald-Stil, in der Hightech und Hektik noch nicht im Mittelpunkt sind. Genau richtig also für ein paar ruhige Stunden im Spiel und Teamspeak. Natürlich ist die Map nur bedingt Curseplay fähig und auch das Verwittern / Verdorren ist eingeschaltet.
 
Neu in dieser Version sind neben Kalk, Klee,Dünger neue Pflanzentexturen auch zwei neue Täler mit dazugehörigen Gebäuden und Funktionen. Drei neue Kiefernschonungen (nicht fällbar) entstanden und auch hinter dem Fahrzeughändler wurden ein paar fällbar Bäume gepflanzt, um für das Sägewerk Nachschub zu haben. Die Forgotten Plants Texturen wurden, teilweise überarbeitet, in der Map verbaut, wie auch neue Straßentexturen von Niggels und Katsuo. Die Schwaden aller Fruchtsorten wurden ein wenig erhöht. Die Foliagetrees haben neue Texturen bekommen und viele kleinere Bugs, die ich schon seit längerer Zeit beheben wollte, sind gefixed. Zur besseren Befahrbarkeit wurden auch die Fahrsilos am Hof ein wenig verlängert. So sollte es weniger Ärger mit MR Mods dort geben. Die Map selber ist nicht MR. Der Grund ist einfach. Ich wollte keine zwei Versionen der Map bauen und die einzige Änderung zu MR ist, dass man die Schafwollepalette austauscht. Dies halte ich als MR Liebhaber einfach nicht für nötig. So kann jeder die Map spielen, auch Nicht-MR-Spieler.
 
Angerer Tal
Im Angerer Tal ist ein Gasthof mit dazugehörigen Gebäuden entstanden, der neben der Schafweide auch einen Kartoffel und Eierankauf beherbergt neu ist ein Lager für loses Stroh und der wool collector für die Schafwolle. Ein Biergarten rundet das Bild ab. Im Angerer Tal sind 6.5 Hektar Acker entstanden, verteilt auf 9 Felder und dazu passend 8 Wiesen für den Grasschnitt.
Das Mühlental
Im Mühlental liegt die Wildbach Wassermühle. Eine historische Mühle, die Weizen und Gerste zu einem etwas besseren Preis als der Landhandel annimmt. Dazu gibt es im Mühlental noch 3 weitere Felder mit knapp unter 3 Hektar Ackerland. Für den Grasschnitt sind auch hier 7 Weiden hinzugekommen. Um an der Wassermühle abladen zu können, müsst Ihr erst die Platten über dem Kornsumpf öffnen. Den Trigger findet Ihr in den Screenshots von uns. Der Trigger ist ein MapDoorTrigger von VertexDezign und links von den drei Kornsumpf Platten. Es kommt ein "Tor öffnen" Zeichen wenn Ihr im Trigger steht.
 
 
Was ist neu :
Über 2000 fällbare Bäume
Sägewerk/Hackschnitzelheizwerk
Große BGA
Moderner Kuhstall mit Reinigungsroboter
Misthaufen und neue Unterstellplätze am Hof
Viele weitere Kleinigkeiten 
Wichtig: Wir empfehlen einen starken PC!
 
Benötigte Mods:
Mapdoor Trigger
Forst Mod
Güllemod Von Eifok
Guelle und Mistmod: http://uploaded.net/file/u118ohyk
 
 
 
Nun wie immer wünschen wir:
Viel Spaß beim Spielen!!
 LS-Landtechnik.com
&
Stormi und der Kai von KundS Modding
 
Solltet ihr Fragen haben wendet euch bitte an uns, www.LS-Landtechnik.com da werden wir euch gerne helfen. Bitte habt Verständnis das wir kein Support per PN leisten.
Der Mod darf auch auf anderen Seiten zum Download angeboten werden, aber nur unter Verwendung des Originalem Downloadlinks! Der Mod darf ohne Zustimmung des Ur-Modders nicht verändert oder neu hochgeladen werden!
This mod may be offered for download on other sites , but only by using the original download links. The mod may not be altered or re-uploaded without the consent of the original modders.
 
Credits
Deutz1997 : Die Ur-Wildbachtal
Fatian (Feldwege;Straßen)
Dennis Busch (Waldschilder)
Modelleicher,Maxter (Hofobjekte)
Desperados93 (Mapobjekte)
FendtFarmer/Desperados93 (Brücke,Texturen usw.)
pAre (Hütte am See)
Unbekannt (Großen Stromleitungen)
IMarvin (Schlagbaum)
Mr F. (Foliagebäume,Plantagenbaum)
Giants (Standartobjekte)
MR-Klausen / thejohnderre7930 (Unterstand)
ka88 (Billinger Landhandel, Texturänderung von Stormbringer)
Buschi (Getreidelagerset, Kiefer, Sturmkiefer)
LS-UK (Ringfeeder)
Tessmann85, ls-mod-tempel (neue Ground-Textur)
TyphoOn (Mini-BioGas Anlage)
Marhu (Wassermod / Futtermod)
MrFox, TheAgraama (Lampen)
TMT marhu, -Kolbenfresser-, Hatzfan (Guelle und Mist Mod)
Eifok-Team (Guelletrigger für Ihr Zunhammer Fass)
Feros (Jaegerzaun)
Farmer 14 (Zaun)
Nick98_1 (Teile des Schilderwald)
lsfamer2011 (Feld / Waldweg)
Tobsel88 (Basistexturen Foliagetrees)
L4Icce und Thorne (Gebäude des Alpenhofes)
borutcebulj (Bruecke)
Steffen30muc (Halle im AngererTal, Duenger und Kalkhalle)
Ceen und 4ndi (neue Texturen des Straßensets)
FendtFan1 (Waldbodentextur)
LwFarming (Maistextur)
Niggels/Katsuo (Straßen Textur)
Hardstyler (Flußshader)
Alex2009 (Ladestation von Lely)
Timber131 (Lely Stallrobotter)

www.LS-Landtechnik.com (Extrem Edition Umbau)

-> Und ich, der Stormi natürlich :-)

Ich hoffe, ich hab Alle. Falls nicht, eine PM und Ihr werdet natürlich hinzugefügt.

Benötigte Mods:
Guelle und Mistmod: http://uploaded.net/file/u118ohyk
Eifok Guellefass:
Forstmod:
Mapdoor Trigger:
changes
17 Jul 23:30

Version 2.4 Extreme Edition
Files
| | |
| --- | --- |
| checksum: | 7435f2cea593332ea5a9bf9f09fa21de |
| Version: | 2.4 Extreme Edition |
| multiplayer ready? | yes |
| Author: | Stormbringer - KundSModding - Ls-Landtechnik |
| price in shop: | -250 LS |
| name in shop: | verkaufbare Feldrand Esche |
| description in shop: | Verkaufbare Feldrand Eschen. Verkauft die im PDA markierten Bäume um mehr Platz für deinen Helfer zu schaffen. |

Do you think this mod should be featured?
}