Wildbachtal
V 1.97 Edit by Stormbringer mod for Farming Simulator 2011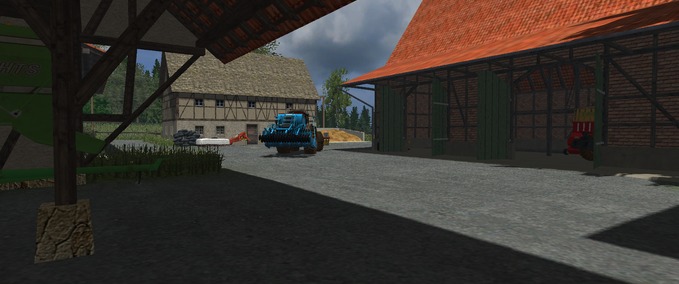 description
featured
Willkommen Zurück im Wildbachtal !!
Ich habe noch einmal Hand angelegt und diverse Kleinigkeiten umgebaut. Ich danke Deutz1997 für seine Map und die Freigabe, Sie ein wenig umbauen zu dürfen. :-) Außerdem Danke ich den Erbauern aller Mapobjekte, die ich in meinen Maps verbaue. Man kann nicht Alles alleine bauen. :-)
Alles wurde sehr behutsam umgebaut damit die Optik nicht leidet und nur der Spielfluss verbessert wird. Der Spielstand kann weiter gespielt werden. Lediglich ein wenig Grass wird dann im Misthaufen stehen, wenn man sein altes Savegame weiter spielt.
Vielen Dank für den Tip mit der Wasserplane geht an Duke of Hazzard. Alles weitere könnt Ihr auch den Texten und Bildern aus der Vorgängerversion 1.95 und den alten Versionen von Deutz1997 entnehmen.
Die Map sollte annähernd 1zu1 sein. Die Version 1.97 wurde nötig, da CyberSt0rm auf einmal Einwände hatte, dass seine Halle in der Map stand. Die Halle stand dort schon seit Version 1, wurde NICHT von mir eingebaut, sondern schon von Deutz1997 und Cyberst0rm hätte schon vorher Einwände erheben können. Laut seiner Aussage hat er die Halle schon in der letzten Version gesehen aber nichts dazu gesagt. Ich bin immer stolz, wenn ich meine Mapobjekte in anderen Maps sehe, vor allem wenn es gute Maps sind. Aber nungut, ich bin seinem Wunsch nachgekommen und habe seine Halle gegen eine andere Halle ersetzt und gleich noch ein paar Veränderungen in die Map eingebaut.
Changelog und Credits beachten. Viel Spaß beim Spielen.
Grüße, der Stormbringer
Benötigte Mods:
MapBGASiloChaff.zip, MapBGASiloGras.zip --> http://www.modhoster.de/mods/bga-silo-und-silos-zum-verfuettern-von-g--2

Map_Fruit_josera.zip --> http://www.modhoster.de/mods/josera-kraftfuttermod-fixed--2
FertilizerMod.zip --> http://www.modhoster.de/mods/fertilitzermod-zum-einbau-im-ge
MapFruitTrigger.zip --> http://planet-ls.de/board/index.php?page=Thread&threadID=8922
Changelog Version 1.97

- An der Kuhweide wurde der Kleinballentrigger ein wenig beschnitten und dort steht nun ein weiterer Unterstand
- Der Landhandel hat nun nicht nur Festdünger, sondern seit neustem auch Flüssigdünger im Angebot
- Die Halle von CyberSt0rm wurde ersetzt. Die Halle steht dort seit Version 1 der Map. Was Ihn nun bewegt, die Erlaubnis rückgängig zu machen weiss ich nicht. Ich bin immer stolz wenn meine Mapobjekte irgendwo verbaut werden. :-)
- Wachstumsstufen auf 24 Stunden = 1 Jahr Zyklus gesetzt. Weitere Infos in der beigefügten pdf von mir oder dem Screenshot hier. Das pdf darf frei für alle Maps genutzt werden, auf Wunsch nenne ich auch die Wachstumszahlen, die in die Maps eingetragen werden müssen.
- Texturen von TL500 eingefügt. Sind die realistischsten Texturen aktuell, vielen Dank dafür. :-)
- Rafftnix Reparaturmod eingebaut. Der Händler kann nun Fahrzeuge reparieren. (Nur ganz Links bleibt Stellplatz ohne Trigger)

Changelog Version 1.96 ( Map wurde gesperrt. Grund: Der Erbauer der Halle auf dem Hof war nun nicht mehr mit der Freigabe seiner Halle einverstanden. Changelog Eintrag siehe oben):
- Kuhweide wurde aufgeteilt, umzäunt und mit Baumstamm-Toren versehen da sie doch sehr schlicht war. Die Tore werden auch auf der Finsterbrunner Tal verbaut und bekommen hier Ihre Feuertaufe. Aktuell noch ohne Collision. Ich würde gerne wissen was Ihr Spieler von den Toren haltet.
- Kuhstall im Tal hat einen Misthaufen bekommen und weitere Details, keinen Ausmistmod.
- Bei beiden Misthaufen kann man nun die Schaufel wieder abkippen.
- Maisreihensaat wurde optisch angepasst, Pflanzen stehen nun enger.
- Stall am Hof wurde ausgestreut und es stehen nun Pferde drin.
- diverse kleine Änderungen, Höhenanpassungen usw usw usw für den besseren Spielfluss.
- Wasserplane gerichtet, Wasser für die DLC Gewächshäuser kann nun aus dem kleinen Teich entnommen werden.

Changelog Version 1.95:
- BGA ausgebaut; alle Trigger auf Standardskripte umgerüstet
- Skripte der Fahrsilos getauscht, die Silos laufen jetzt auf MapBGASiloChaff.zip und MapBGASiloGras.zip
- Gülletrigger angepasst, ist jetzt der Standard-Gülletrigger
- Strawbale to Manuremod eingebaut. Schmeisst man Strohballen auf den Mist, bekommt man Mist dazu
- PDA Bild erstellt, Feldnummern vergeben: rot = Feld, türkis = Weide
- PDA Hotspotzeichen verändert, gelöscht, neue erstellt und teilweise aus meiner RWvsPA importiert
- Kuhställe visible geschaltet (es waren schon 2 Ställe verbaut aber unsichtbar) und plaziert, Optik angepasst
- Kleinballentrigger zum Kuhstall verlegt (neben dem Josera, man sieht schon wo *grins*)
- Ballenverkauf gefixed, Ballen kann man nun auf dem Dachboden des Fachwerkunterstandes am Hof verkaufen
- Händler ein wenig erweitert, eine zweite Einfahrt und eine neue Halle aus dem Heeewa-Set verbaut
- 2 Windkraftanlagenplätze hinter dem Händler im Wald gebaut, ein neuer Weg führt hin.
- Verkehr angepasst, Autos und der Milch-LKW fahren
- Mapenden verändert, keine Baustellen mehr, dafür ein Schild wenn man näher kommt
- Alle Weiden mit Short-Gras bepflanzt. Nach dem Mähen steht kurzes Gras auf den Weiden und sorgt für weiteren Realismus
- Adler eingebaut, Spline angepasst
- Hintergrundfarben der Felder angepasst. Wenn man alles geerntet hat, sieht es auch leer aus im Tal. :-)
- Map.zip um über 75MB verkleinert, 126MB im Vergleich zu 211MB vorher
- Mist und Güllemod verbaut (mit Feldgrenzenerkennung) (*)
- Milchproduktion angepasst, es wird weniger Milch, Gülle und Mist produziert, der Milchpreis liegt bei  32Cent/Liter
- Körnermais kann verkauft werden, aber nicht am Hof eingelagert
- Wachstum angepasst: Korn braucht 2 Stunden pro Stufe, Gras eine Stunde
- Der Hof wurde komplett mit MapDoorTriggern ausgestattet.
- Billinger Landhandel verbaut, sieht optisch einfach schöner aus, vor allem die Textur.
- Fertilizer Mod am Landhandel verbaut samt Halle (danke Team Eifok)
- Dynamische Leitpfosten verbaut
- Scheune von Modelleicher verbaut und Türen sowie MapDoorTrigger dafür in Cinema4D gebaut. :-)

Credits
-> Eifok-Team (Fertilizer Mod und Halle)
-> TL500 (Texturen)
-> Rafftnix (Reparaturmod)
-> Deutz1997 : Die Ur-Wildbachtal
-> Fatian (Feldwege;Straßen)
-> Dennis Busch (Waldschilder,Grastexturen aus 09)
-> Modelleicher,Maxter (Sämtliche Hofobjekte)
-> Desperados93 (Sämtliche Mapobjekte)
-> FendtFarmer/Desperados93 (Brücke,Texturen usw.)
-> WohlstandsKind (08 Fichten)
-> Heady (Bga-Silos/Silostar)
-> pAre (Hütte am See)
-> Unbekannt (Großen Stromleitungen)
-> Unbekannt (Bewegliche Waterplane)
-> IMarvin (Schlagbaum)
-> Mr F. (Foliagebäume,Plantagenbaum,Terriantexturen)
-> Giants (Standartobjekte)
-> Hewaaa (Händlerhalle)
-> MR-Klausen / thejohnderre7930 (Unterstand)
-> ka88 (Billinger Landhandel, Texturänderung von Stormbringer)
-> GEÄNDERT: BUlldozerXL (fliegender Adler) Danke BulldozerXL, hier bei Modhoster steht Milli1997 am Mod

-> Und ich, der Stormi natürlich :-)

Ich hoffe, ich hab Alle. Falls nicht, eine PM und Ihr werdet natürlich hinzugefügt (Muss man das Extra schreiben, ist doch selbstverständlich, oder ??)
changes
25 Sep 16:22

Version 1.97 Edit by Stormbringer
Files
| | |
| --- | --- |
| checksum: | 064c109fb8b9494865fecba34853478e |
| Version: | 1.97 Edit by Stormbringer |
| multiplayer ready? | no |
| Author: | Deutz1997 |
| price in shop: | LS |
| name in shop: | Wildbachtalmap |
| description in shop: | Hallo und Herzlich Willkommen im Wildbachtal! Hier wartet ein kleiner Hof von ihnen bewirtschaftet zu werden. |

Do you think this mod should be featured?
V 1.97 Edit by Stormbringer
}